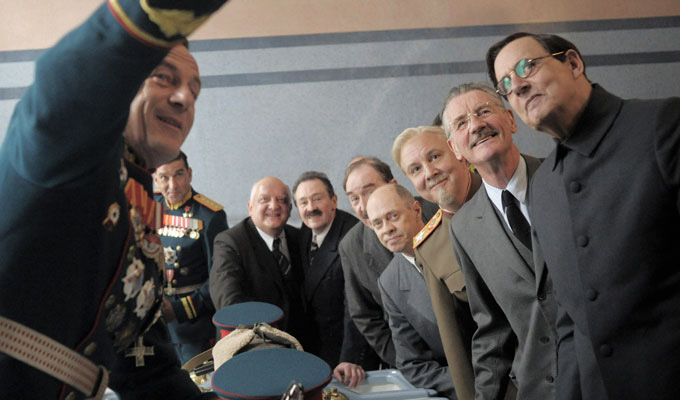 The Death Of Stalin
Note: This review is from 2017
He's tackled the political machinations in Westminster and Washington, so perhaps the Kremlin was the next logical step.
But there is a much more sinister undercurrent in Armando Iannucci's The Death Of Stalin, where the saying the wrong word could mean a death sentence, not just a career setback. It raises the stakes, even if the transition between the grim horrors of the 1953 Soviet Union and joking about the panicky power plays of the Presidium isn't always easy. In many ways, this seems like more than one film stuck together, flitting from farce to satire to slapstick to troubling drama.
Adrian McLoughlin plays Stalin like a chillingly unpredictable gangster, possibly escaped from a Guy Ritchie movie, all high spirits as he and his inner circle indulge in debauchery worthy of the Bullingdon Club, but with a temper ready to erupt.
When his end comes, it's hardly heroic, (historically accurate, too, like much of the script) as he's left 'lying in a puddle of indignity' after a stroke, prompting a farcical pantomime as his comrades manhandle his hefty fame into bed. All the good doctors have been killed or dispatched to gulag, so the leader lies in limbo before finally kicking the bucket.
The then jockeying for position starts. Aptly from the creator of Veep, Stalin's deputy Georgy Malenk is vain, vacillating and ineffective, playing to Jeffrey Tambor's strengths as a comic actor.
The performances from this impressive cast are uniformly memorable, but again they often feel as if they are in different movies – a sense heightened by the decision to give them a range of English and American accents, in defiance of the cliché of cod Russian brogues. This is particularly effective in the case of Jason Isaacs, stealing every scene by playing Red Army commander Marshal Zhukov as a bluff, macho no-nonsense Yorkshireman, cutting through the blether of the political classes.
Malenk's main rival is serpentine secret police chief Lavrentiy Beria, who revels in personally torturing and raping those his security forces imprison and made intense, creepy and sinister in the capable hands of Simon Russell Beale.
Also around the committee table are Steve Buscemi's Nikita Khrushchev, initially Stalin's jester, who becomes increasingly scheming. Vyacheslav Molotov is prime Michael Palin, so mild-mannered and keen not to put his head above the parapet. And Paul Whitehouse's weasel-like Foreign Minister Anastas Mikoyan could have come out of one of his sketch shows.
As you'd expect from Iannucci and fellow scriptwriters David Schneider and Ian Martin, the dialogue flits between the brutal sweary putdowns and the carefully non-committal statements of the vague, very much like The Thick Of It. Conscious that a wrong word could mean death, the senior Soviets dance around their meaning.
Plenty of individual moments also shine. There's an especially painfully funny scene – hilariously longer than it needs to be – where Stalin's drunk son Vasily (Rupert Friend) clumsily tries to wrestle the service revolver from a Red Army soldier as the Presidium look on in placid bemusement. And some of the insults are as creative as you'd hope.
Yet Death Of Stalin isn't as funny as you might expect (most the best jokes are in the trailer). The grim seriousness of the scenario, and the need to both remind the audience this is an horrific regime and tell the story faithfully, puts a brake on the laughs, though it is always interesting in its portrayal of terrible turmoil.
Review date: 22 Oct 2017
Reviewed by:
Recent Reviews
What do you think?