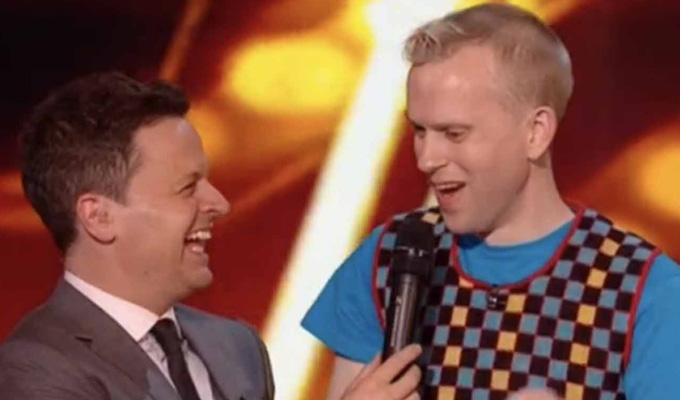 Robert White makes Britain's Got Talent final
Robert White has become the second comedian to make the finals of Britain's Got Talent this year.
The comic won the audience vote following his stand-up routine mocking the judges, automatically putting him through.
In his musical set, he joked that Amanda Holden 'is obsessed with trying to look young' and told her that her chair was like her younger years 'because it's behind you'.
He also joked that David Walliams 'is obsessed with his heterosexual pretending' that Simon Cowell loves the sound of his own voice and Alesha Dixon dressed like a... Well he didn't complete the line, but it would have rhymed with 'cooker'.
Here is his set:
All four judges gave him a standing ovation and Walliams said White – who describes himself as 'the only gay, Aspergic, quarter-Welsh comic on the British comedy circuit' – was 'one of the funniest acts' he had ever seen.
And Paddy McGuinness tweeted his support, saying: 'Robert White is absolutely hilarious!!! Very gifted comedian. So refreshing, intelligent and super gifted! Loved his performance tonight, I smiled and laughed all the way through his set.'
White, 41 and also a primary school teacher, joins Lost Voice Guy Lee Ridley, who won his semi-final on Monday, in the final.
Also through tonight was singer Gruffyd Wyn Roberts, who judges chose over magician Marc Spelmann.
Here is the moment White found out he was through:
The live Britain's Got Talent final airs on ITV on Sunday at 7.30pm, with semi-finals continuing through the week.
Published: 30 May 2018
Recent News
What do you think?