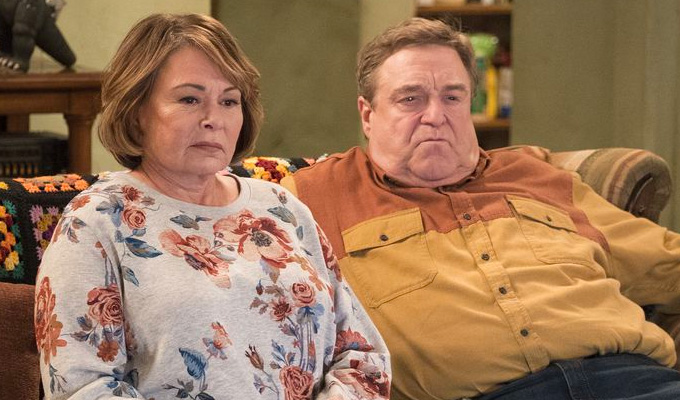 Roseanne Barr turns on her co-stars
First her racist tweet cost her sitcom's cast and crew their jobs, now Roseanne Barr is lashing out at her newly-redundant co-stars.
The comic was initially contrite after ABC dropped the show, saying: 'I just want to apologize to the hundreds of people, and wonderful writers (all liberal) and talented actors who lost their jobs on my show due to my stupid tweet.'
But once her co-stars started to condemn her tweet that compared Barack Obama's aide Valerie Jarrett, who is black, as a mix between the Muslim Brotherhood and Planet Of The Apes, she turned on them.
Michael Fishman, who played DJ, called Barr's tweet 'reprehensible and intolerable' and 'truly offensive' and said: 'We must stand up against bias, hatred, bigotry and ignorance.'
But Barr fired back: 'I created the platform for that inclusivity and you know it. ME. You throw me under the bus. nice!'
And when Sara Gilbert, who plays Barr's daughter, said: 'Roseanne's recent comments about Valerie Jarrett, and so much more, are abhorrent and do not reflect the beliefs of our cast and crew or anyone associated with our show. I am disappointed in her actions, to say the least.'
'Wow! unreal,' Barr countered.
The ABC network pulled the plug on the revived show yesterday, just hours after Barr's tweet.
Channing Dungey, President of ABC Entertainment, said: 'Roseanne's Twitter statement is abhorrent, repugnant and inconsistent with our values and we have decided to cancel her show.'
Barr's initial apologies over 'a bad joke about her politics and her looks' appear to have turned to defiance against the cancellation.
After getting some support from fans angry over the decision, Barr tweeted: 'You guys make me feel like fighting back. I will examine all of my options carefully and get back to U.'
She also retweeted several messages complaining that ABC's decision was political and wondering why they hadn't axed performers who had said awful things about Donald Trump.
The President himself made it all about his reputation, too, tweeting: 'Bob Iger of ABC called Valerie Jarrett to let her know that "ABC does not tolerate comments like those" made by Roseanne Barr. Gee, he never called President Donald J. Trump to apologize for the HORRIBLE statements made and said about me on ABC. Maybe I just didn't get the call?'
Barr also got a message of support from Katie Hopkins.
Published: 30 May 2018
What do you think?