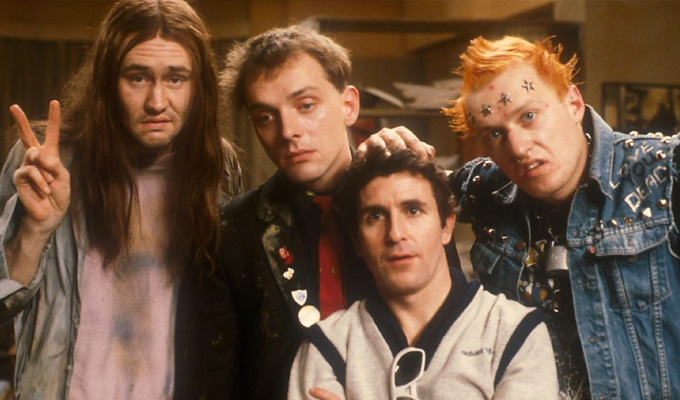 How the Young Ones almost had a very different cast...
The four housemates of The Young Ones have become icons of comedy history – but the line-up almost looked very different.
For Timothy Spall came within a whisker of being cast as Mike, the cool, dodgy and aloof presumed head of the anarchic household.
But co-writer Lise Meyer has revealed that the acclaimed actor was deemed too similar to Nigel Planer's dour Neil – so instead the role went to stage actor Christopher Ryan.
'We nearly gave the part to Timothy Spall, who did an absolutely brilliant reading,' she reveals in the new Gold documentary How The Young Ones Changed Comedy. 'We just decided that facially he and Nigel were too similar, they both had that hangdog thing going on.
'Then we went to see a play called Can't Pay Won't Pay, which was on at the West End. Chris Ryan was in it and was absolutely brilliant and we thought, "We've found our Mike".'
The role was originally meant to be played by Peter Richardson, who was then in a double act with Planer, The Outer Limits, in which he performed a similar character to Mike.
However, he had a massive falling out with producer Paul Jackson over a previous ill-fated attempt to capture the excitement of the new alternative comedy scene for TV, entitled Boom Boom Out Go The Lights. Jackson's decision to only showcase solo performers on that programme meant Planer was included as Neil, but not The Outer Limits as a duo, sparking the feud.
However, Richardson was to have a crucial, if tangential, role in bringing the Young Ones to the screen.
In the documentary, the sitcom's makers revealed the BBC only made the series – dusting down a pilot they had previously passed on – to compete with Channel 4. The newly-launched broadcaster had signed Richardson to make six comic films under The Comic Strip Presents… banner, featuring many of the same team, and the BBC did not want to get left behind.
In the new Gold documentary, Meyer also recalled how Ben Elton was drafted in to help her and Rik Mayall pen the pilot script – because he was fast at writing. All three knew each other from Manchester University.
Meyey said: 'Rik and I were sitting around in the saloon bar writing the pilot of The Young Ones and Ben turned up. Rik just went, "Ben! We should get Ben to do it with us because Ben's a really quick writer." Which is obviously the attribute you most wanted.'
But it paid off as Elton wrote a first draft script that night, and the new documentary includes 2012 footage of Mayall and Elton reading those lines, 31 years after they were written.
Planer recalls how he was impressed by that first script, recalling telling his wife: 'We've got to do it. God if I'm not in this I'm going to slit my wrists.'
Jackson was instantly on board, but even after watching the pilot, BBC executives couldn't see the appeal – and asked for a thesis on why it was supposed to be amusing.
Adrian Edmondson, who played Vyvyan, said: 'Paul showed it to the people upstairs and they didn't understand it. They got Ben to write an essay explaining why it was funny, because they couldn't see it.'
They passed, only to revive it under pressure from Channel 4. The first episode of The Young Ones aired on November 9 1982, exactly one week after the first Comic Strip Presents.
How The Young Ones Changed Comedy also addresses the issue of the mysterious fifth housemate often glimpsed in the background, who Chortle has previously covered.
Director Geoff Posner said: it was to reward people who bought the VHS of the series with 'something they might have missed first time round'.
Meyer explained: 'It was not that there was a fifth flatmate, it was just that there had been a party at this student house at some point in the past and someone had never left..'
But Planer says': 'Everyone talks about this fifth flatmate. I don't remember it, because I didn't even know it was there in the first place'.
Another trademark of the show was its surreal cutaway scenes, involving the likes of talking vegetables or real flies making fly-on-the-wall documentaries.
But Edmondson now reveals that he hated them. He says: 'We had four really funny characters, you know, so why bother ruining it with these arch attempts to do cult?', he said. 'The cult was in the four of them.'
Eagle-eyed viewers will also have spotted the flash frames hidden in the series – fleeting, subliminal single shots that lasted a fraction of a second.
However, Jackson reveals it was that stunt that landed the show in more trouble than anything else – and that BBC boss Bill Cotton ordered them to be exorcised from future episodes.
It meant the payoff to the gags – a flash frame allegedly showing a note from the video editor saying: 'I never wanted to put these flash frames in in the first place', followed by: 'Shut up and do what you're told farty breath.'
The team also recall some of the more outrageous stories concerning the making of the Young Ones, including them turning up to a BBC party which culminated in a drunk Roland Rivron 'getting his knob out and showing it to Penelope Keith'.
And punk band The Damned re-formed to do one song for the show. However, their comeback was short-lived as after the recording they went to an Indian restaurant and started a fight, after Captain Sensible got up on to a table and started singing his solo hit Happy Talk, which the rest of the band hated. So they promptly split up again.
The documentary could not pass without paying tribute to Mayall, who died in 2014 at the age of 56.
But Edmondson could not bring himself to talk about his friend and longstanding double-act partner on camera, saying only: 'I'm not very good at soppy television.'
How The Young Ones Changed Comedy is on Gold at 9.30pm on Saturday. It will be followed by The Young Ones' Greatest Moments at 9.30pm on Sunday.
Published: 23 May 2018
What do you think?