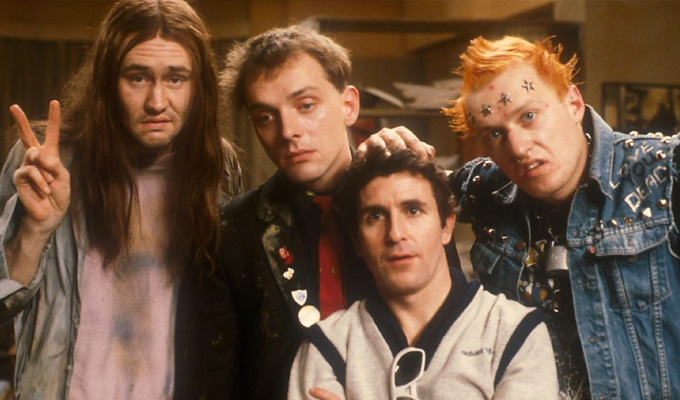 Eerie riddle of the Young Ones' mysterious fifth flatmate
Easy one for comedy trivia fans: How many housemates were there in The Young Ones?
If you said four, you are wrong.
For as well as Rick, Neil, Vyvyan and Mike there was an eerie fifth figure who never spoke and could only occasionally be glimpsed in the shadows.
When they were fleetingly seen lurking in the background, their long hair obscured their face, and they would sit, impassively, as the manic action unfolded around them.
He or she – the gender cannot be determined – appeared in every episode of the first series from 1982, and in one episode is seen floating spookily outside the window.
And although never credited – with even co-writer Ben Elton even denying the character's existence – the ghostly figure did appear in one publicity shot for the show:
The existence of the fifth housemate has been discussed on the internet a few times times, including this 2012 YouTube video, which offers little explanation:
However one fan, Peter Farquhar, decided to investigate further and got in touch with Elton and director Geoff Postner.
Elton told him bluntly: 'I have absolutely no idea what you are talking about, I'm afraid. There were four housemates plus the landlord'.
However a couple of days after that denial, Posner confirmed Farquhar's suspicions saying that he and producer Paul Jackson simply 'though it would be fine to have some ghostly figure in the background of some scenes that was never explained or talked about. Hair all over the face so you shouldn't be able to decipher gender either.
'The fact that we forgot to do it consistently through the series shows what a bunch of amateurs we were in them days.'
Writing in Business Insider Australia, Farquhar concludes: 'As a replicant which appeared in slightly different situations in at least five episodes in the first series, it could arguably be described as one of the first popular culture memes.'
Published: 18 Jun 2016
What do you think?