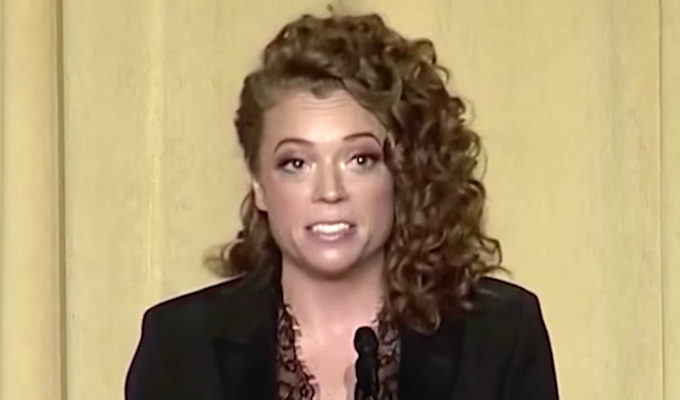 Alt-right spread vile libel about Michelle Wolf
American right-wingers have been spreading vile lies that Michelle Wolf has a conviction for bestiality.
The comedian riled the alt-right with her monologue at the White House Correspondents' Dinner on Saturday night attacking President Trump and several of his aides.
Now scores of Twitter accounts are circulating a fake, mocked-up newspaper cutting, allegedly from 2015, saying Wolf pleaded guilty to charges after several hundred images and videos of her having sex with dogs were found on her hard drive.
The image was created with a fake newspaper clip generator, where users can input any text they want.
The Hershey Sun, the real newspaper alleged to have printed the article, has published a rebuttal.
'It's laughably bad,' managing partner David Buffington, said. 'The person who faked this thing messed up all sorts of easily verifiable stuff. You could go to our website, thesunontheweb.com, and figure out that stuff in five minutes.'
The article is even dated Sunday July 10, when that date was a Friday. Ironically, many of the nuts who retweeted the libel complain about 'fake news' whenever a major news network criticises the President.
Trump has branded Wolf a 'filthy 'comedian' who 'totally bombed' at the event.
Michelle Wolf, who viciously attacked @PressSec , a beautiful,intelligent,strong woman-⚠️ it should be known that Ms. Wolf was arrested,charged and convicted of "bestiality" in 2015!!! Poster child for the liberal leftists! https://t.co/qPbE84e9MC

— rebeccanewport (@eodpenguin) April 30, 2018
Published: 30 Apr 2018
Recent News
What do you think?