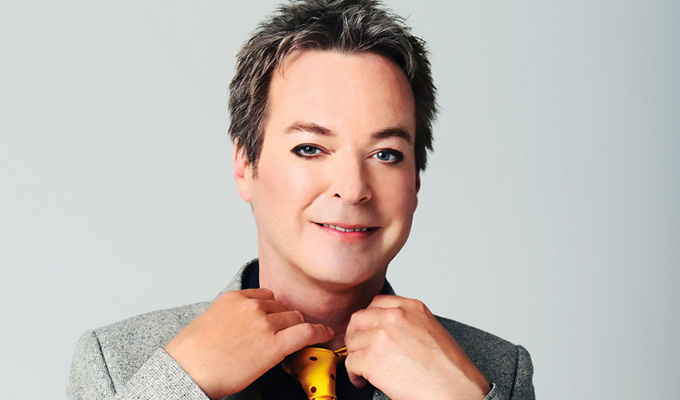 Radio 2's Funny Fortnight
The week's comedy on TV and radio.
Sunday April 22
SOUND AND VISION: Simon Pegg joins Miranda Sawyer to discuss the use of music in his work. BBC 6 Music, 1pm
TOM ALLEN IS ACTUALLY NOT VERY NICE: The latest in Radio 4's season of one-off stand-up specials explores what happens when Tom's calm and collected exterior collapses, be it when trying to get a refund on some trousers... or arguing with his Mum's friend Joyce about ham. Radio 4. 7.15pm
Monday April 23
RADIO 2'S FUNNY FORTNIGHT: The broadcaster's season of comedy pilots kicks off with a double-bill. At 10pm Shane Richie and Hannah Waddington star as The Taylors, a fun-loving nouveau riche couple whose noisy family disturb the peace of a middle-class neighbourhood when they move in. And at 10.30pm, Julian Clary hosts Censored, a game show in which audio clips have words bleeped and the panel of guests - Dane Baptiste, Rachel Parris and Arlene Phillips - try to work out what's missing.
Tuesday April 24
RADIO 2'S FUNNY FORTNIGHT: At 10pm, Jeremy Vine: Agony Uncle has the familiar radio voice (as mimicked by Lewis MacLeod) offering advice to the world's great and good. Featuring Jess Robinson and Terry Mynott, this is a part-scripted, part-improvised spoof phone-in, where the celebrities in distress are played by impersonators. And at 10.30pm, Josh Widdicombe Will Make Your Life Better is a panel show in which guests including Harry Hill and Fay Ripley come up with life hacks, innovations and other hare-brained ideas, which are then put to the test.
Wednesday April 25
RADIO 2'S FUNNY FORTNIGHT: Tonight's double bill kicks off with Dog Days at 10pm, a sitcom created by Peter Kay's Car Share writer Paul Coleman and based around a group of dog walkers. The cast includes Gwyneth Powell, John Henshaw, Joel Fry, Johnny Vegas and Tanya Frank. Then at 10.30pm, Sara Cox hosts the new panel show What If..? considering the hypothetical outcomes if events in pop culture history had turned out differently. Guests include comedian Grainne Maguire, science broadcaster Dr Adam Rutherford and Rylan Clarke-Neal from The X Factor.
Thursday April 26
URBAN MYTHS: JOHNNY CASH AND THE OSTRICH: Frank Skinner wrote and stars in this fictionalised version of a possibly true story about Johnny Cash. It's November 1983 and Jean (played by Isy Suttie), a hotel manager in Nottingham, arrives at work to find there's trouble in Cash's room. After Jean eventually persuades the country legend to let her in, they sit among the carnage and he explains that he has been visited by Waldo, the killer ostrich. Sky Arts, 9pm
Published: 22 Apr 2018
Recent News
What do you think?