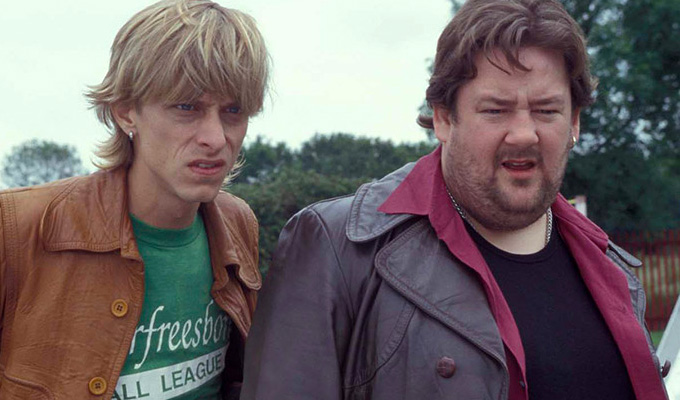 Johnny Vegas and Mackenzie Crook star in new comedy horror film
Johnny Vegas and Mackenzie Crook are reuniting for a new comedy-horror film, Tales From The Lodge.
It is their first feature together since they played laddish chip shop delivery men in 2004's Sex Lives Of The Potato Men – a flop that attracted some of the harshest reviews ever committed to newsprint.
The new film, which also stars Breaking Bad's Laura Fraser, is about five old university pals, now nudging 40, who gather together for a weekend to scatter the ashes of a friend who drowned himself in a lake three years earlier. They settle in for a night swapping stories of murders, ghosts, zombies and possessions - until they become aware of another horror story unfolding around them.
Crook's Detectorists co-star Sophie Thompson, Cardinal Burns comic Dustin Demri-Burns and Kelly Wenham, who has performed two Edinburgh comedy shows, also appear in the ensemble feature, much of which was filmed at Seaton Point in Northumberland last year.
However Vegas is shooting his character's zombie story in Hebburn, South Tyneside, after scouting locations over the last few months.
He has tweeted concept art for his character:
Sketch for Hebburn Vegas Zombie. Time I turned in, up at 5, raaaaaaaggggghhhhh flesh! pic.twitter.com/6jBRLgObgD

— Johnny Vegas (@JohnnyVegasReal) December 6, 2017
He also posted a picture of Jack Nicholson in The Shining and wrote: 'Back next week for our hush, hush filming, look out Iona club, Hebburn, 'cause "Here's Johnny!"'
Vegas, whose real name is Michael Pennington, visited the long-established social club in Hebburn in December, pledging to return in the new year for the 'zombie apocalypse'.
Tales From The Lodge is written and directed by Abigail Blackmore and produced by Ed Barratt and Richard Wylie for Hook Pictures. It is expected to be released in September.
The Daily Mirror said Sex Lives of the Potato Men – pictured above – was 'one of the worst films ever made', a sentiment echoed by the Independent on Sunday which described it as a 'strong contender for the title of worst film of all time'. Will Self, writing in the Evening Standard, described the movie - which co-starred Julia Davis, Mark Gatiss and The Office's Lucy Davis – as 'mirthless, worthless, toothless, useless'.
'I didn't have any regrets about it' Vegas said in 2013. 'The film is what it is. It's not everybody's cup of tea, but I remember reading the script and it was one of the funniest scripts I've read in such a long time.

'There are a lot of people since who I've spoken to who have quietly said they read the script and were desperate to do it.'
Vegas and Crook also starred in the 2010 short, A Reluctant Tragic Hero, part of a series of comedy dramas for Sky Arts based on stories by Anton Chekhov; and the 2005 short Blake's Junction 7 based on the cult 1980s sci-fi gang Blake's 7 arriving at Newport Pagnell Services.
Vegas has described making a zombie drama as an unfulfilled ambition. 'I have more dreams about what to do come the zombie apocalypse than about anything else. I'm subconsciously planning for it' he told the Guardian in 2015.
He had been attached to a BBC series, Dead Puppets Society, in which he was to play a version of himself with a secret life as a zombie puppet hunter. But the 2011 CBBC production from the team behind Zig and Zag fell through because of insufficient funding.
Hebburn was previously the setting – and title – of local comic Jason Cook's 2012 BBC Two sitcom starring Chris Ramsey, Vic Reeves and Kimberley Nixon.
By Jay Richardson
Published: 14 Mar 2018
What do you think?