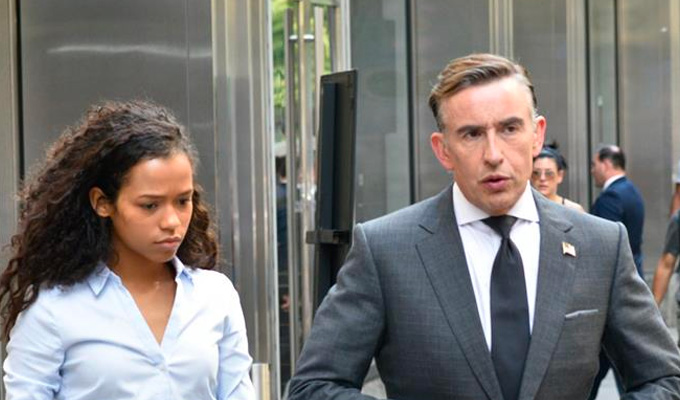 Steve Coogan plays ANOTHER small-minded radio presenter
Here's the first image of Steve Coogan in his new movie… in which he plays another small-minded, conservative, blowhard radio presenter.
In Hot Air, the Alan Partridge star portrays an outspoken US Talk Radio host who finds his world turned upside-down when his 16-year-old niece comes crashing into his life.
Coogan has described his character, Lionel Macomb, as 'a right-wing shock jock … a horrible Rush Limbaugh-style bastard'.
Directed by The Wedding Singer's Frank Coraci, the Trump-era satire co-stars Neve Campbell and Taylor Russell as Macomb's niece, Tess, with 30 Rock's Judah Friedlander also among the cast.
Written by debutant screenwriter Will Reichel, the film 'explores the crazy partisan political media that has contributed to the surreal Trumpesque world we find ourselves in', Coraci has said. 'It's more of a drama than what I'm known for, but there will be some laughs for sure.'
Shot in New York last summer, footage from Hot Air is currently being screened to potential distributors at the Berlin Film Festival.
Photographs leaked from the set last year showed Coogan as Macomb surrounded by a mob of protesters brandishing placards and banners.
Limbaugh is broadcast on more than 600 radio stations and is seen as the unofficial voice of the Republican party. He called for teachers to be armed in the wake of the recent Florida shooting, an idea echoed by Donald Trump.
As a victim of phone hacking and prominent member of the Hacked Off campaign group against media intrusion, Coogan has been a fierce critic of the right-wing media.
Earlier this week, he speculated that the Conservative-backing Partridge – who is set to make his BBC comeback this year – would have been tempted to vote Ukip in the general election and would 'get on like a house on fire' with Nigel Farage, the party's leader turned Talk Radio host.
Coogan first worked with director Coraci on the 2004 adaptation of Around the World in 80 Days, playing Phileas Fogg. He can currently be seen in the Netflix movie Irreplaceable You from Veep producer-director Stephanie Laing. And his next cinema outing will be as Stan Laurel alongside John C. Reilly as Oliver Hardy in the biopic Stan and Ollie.
- by Jay Richardson
Published: 23 Feb 2018
What do you think?