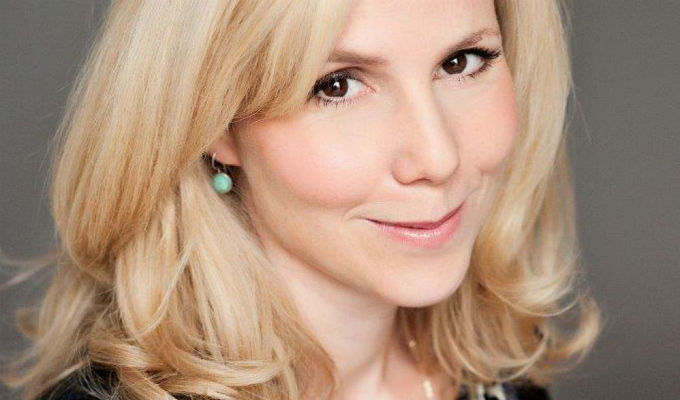 'TV comedy is still sexist'
Television comedy is still sexist, despite greater numbers of women progressing in the business.
That's the view of Sally Phillips, who discussed the issue on Radio 4's flagship Today programme this morning.
The actress and comedian said women make slower progress through the industry and get much fewer breaks.
'Sexism is now so much more hidden,' she said. 'It used to be that there were just aren't any women with their own shows – or just a few, French & Saunders and Victoria Wood – and now there are. But their progress is just so slow through the ranks.'
And to make her point, Phillips contrasted the career of the two 8 Out Of 10 Cats team captains, Rob Beckett and Aisling Bea, with whom she appeared on the last series of Taskmaster.
She said:'We'll just compare two people, both of whom are considerably talented: Aisling Bea who is an amazing Irish comedienne, she went to one of the top drama schools. She's a very gifted writer, she's been writing with Sharon Horgan and got an established track record.
'She had her first script read at the BBC when she was 26. She's now 34 and she's just made her taster tape – that's a 20-minute non-broadcast tape.'
'Whereas Rob Beckett, who's the other captain on 8 Out Of 10 Cats, he's again a very talented guy but he's been given multiple platforms and had a pilot commissioned, even though he never went to drama school and doesn't write.
'So it's just much slower, much harder going for women and you wouldn't at first notice.'
In fact, Beckett – who now fronts BBC One's big Saturday Night entertainment shows Wedding Day Winners and All Together Now – did co-write his 2017 sitcom pilot Static.
Phillips also said that female-led projects were all often lumped together in TV executives' minds, saying: 'All of us have had scripts turned down because they've gone "we've already got a women's thing". '
But she refused to engage with the dumb question: 'Are women funny?', saying she didn't want to 'legitimise an inherently misogynistic question' that only journalists obsess about. 'Of course women are as funny as men. Of course we are.'
The conversation also covered the familiar complaint about unequal representation on panel shows, with Phillips quoting statistics that women only represent 31 per cent of contestants.
And both she and fellow guest Shappi Khorsandi said that when women did appear in such environments, they are usually on the back foot.
'Because there are five slots for men and two for women, for men it feels like meeting up with your mates down the pub but for the women it feels like you're at a job interview or on a date,' Phillips said.
'Nail on the head!,' Khorsandi said. 'It's like joining a band - there's already a lead guitarist so where do you fit in?'
She said the tone of humour on such shows did not always sit well with women, saying that when she used to do panel shows: ''It was this old familiar feeling of being a little sister and having your big brother tease you.
'I think teasing is something that men do with one another but women don't tease one another. I'm hoping Sally would never see me and go "ooh, look at you, who ate all the pies?"'
And Phillips said: 'There's a different kind of humour because men sexualise everything.'
Today's edition of Today, broadcast from Westminster with hosts Mishail Husain and Sarah Montague, was an all-female edition to mark the centenary of the act of parliament which gave some women the vote.
Published: 6 Feb 2018
What do you think?