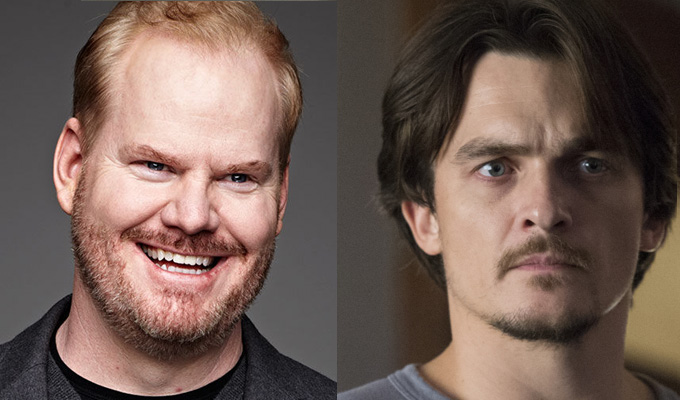 Rupert Friend and Jim Gaffigan join Chris Morris film
Rupert Friend and Jim Gaffigan have joined the cast of Chris Morris's new film – which involves a botched FBI operation and hostage situation, Chortle can reveal.
As we exclusively reported in November, the currently untitled dark comedy, which was predominantly shot in the Dominican Republic this summer, stars Twilight Saga and Pitch Perfect actor Anna Kendrick. She is believed to be playing an FBI agent who comes into conflict with her superiors.
It is not clear what roles comedian Gaffigan or Homeland star Friend – most recently seen in The Death Of Stalin as the dictator's son Vasily – will play.
Friend jokingly posted a cryptic tweet in July suggesting that his deceased Homeland character Peter Quinn, may have 'disappeared' to the Caribbean.
Gaffigan's character is called Lemmy but other details are unknown. The Morris film is one of nine features the prolific stand-up – who plays London and Dublin this summer – currently has pending release.
Mozart in the Jungle's Adam David Thompson and rapper-actor Malcolm Mays have also joined the cast, which as previously disclosed, features Kayvan Novak, Orange is the New Black's Danielle Brooks, impressionist comic James Adomian, Denis O'Hare, Pej Vahdat, Marchant Davis and Mousa Kraish.
One of the actors cast as an FBI agent has disclosed that those playing the elite hostage response team were initially detained by Dominican customs officials after flying with their SWAT equipment props.
They said: 'Nine white dudes, going to the Dominican. And production decided to save a little bit of money, they needed some props sent down, so they said, "we'll just check a box of props with each of you guys and you can just fly down because it'll be cheaper that way".
'And the nine boxes of props, yes, they're not real but they're tactical SWAT gear. So you have nine white dudes going into customs in the DR with nine boxes of tactical gear. So we sat in customs for about an hour and a half. Thanks goodness two of the guys in our group spoke Spanish.
'But yeah, we made some new friends in the DR customs department. I'm glad we didn't have to bring them back into the States because I would have been like no, not going to do it.'
However, producers have denied that this incident took place.
Morris's second feature after 2010's Four Lions is a joint production between the British company See-Saw Films and the New York-based Archer Gray Productions, with financing from Film4 and the BFI Film Fund, which has given it £1.5million, its largest grant of 2017.
- by Jay Richardson
Published: 8 Jan 2018
What do you think?