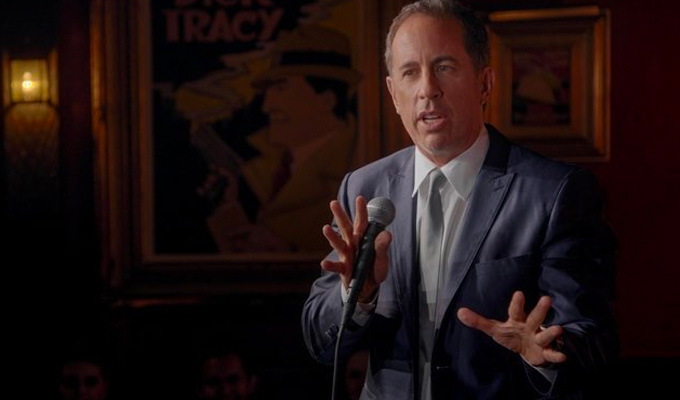 Get your 'laffeine' fix with Jerry Seinfeld
This week's comedy on demand.
Comedians In Cars Getting Coffee
Jerry Seinfeld's self-explanatory series lands on Netflix with the past nine seasons now available on demand before the tenth arrives later this year.
Larry David, Sarah Silverman, Jim Carrey, Chris Rock, Ricky Gervais and John Oliver are among the comics who chat to the king on observational comedy, en route to their cup of joe in a classic motor.
Netflix subscribers can watch here
Peter Baynham: Wales's Funniest Writer.
He started his TV career as Stewart Lee and Richard Herring's whipping boy, but Peter Baynham is now of Britain's leading comedy writers, putting words into the mouths of Alan Partridge, Borat and Bruno, among others. His credits range from the searingly satirical Brass Eye to family festive movie Arthur Christmas. In this radio programme, Baynham talks about his career, while the likes of Sacha Baron Cohen and Steve Coogan make their own contributions. It aired on BBC Radio Wales on Wednesday, and you can listen again here
On The Hour
Speaking of Partridge, Radio 4 Extra last night began a repeat of the second series of On The Hour, the show that gave birth to the character. In this incisive news parody, Coogan's alter-ego is a mere sports reporter in the shadows of Chris Morris's self-important, Paxmanesque anchor, who perfectly combines surrealism and satire. This peerless show originally aired in April 1992, and you can listen here
2 Dope Queens
Soon to be adapted for an HBO TV series, this podcast is fronted by Phoebe Robinson and Jessica Williams and has featured high-profile guest such as Tig Notaro, Mike Birbiglia, W Kamau Bell and Marc Maron this year. It aims to be especially inclusive of female and black and Asian comics, too. 2 Dope Queens has just been named the top comedy podcast of 2017 by Paste Magazine, who said it has an ' essential status in the cultural landscape beyond just comedy podcast… there is no other work of art currently produced that is doing more to bring the future of its medium to you today.' Judge for yourself with the full back catalogue available here
Published: 6 Jan 2018
What do you think?