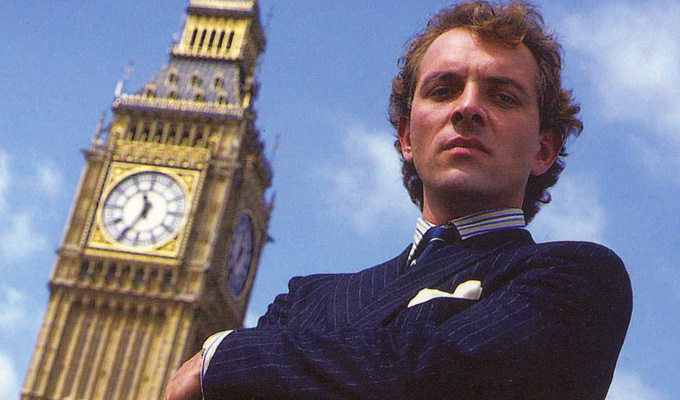 New Statesman revival is proving a real B'Stard
Plans to bring a revived version of The New Statesman to the screen have stalled because no broadcaster will broadcast such 'scurrilous filth', the comedy's writers say.
Laurence Marks and Maurice Gran had planned to follow up the exploits of vile Tory MP Alan B'Stard with a new comedy called The B'Stard Legacy.
The show would have revolved around Sir Alan's son Arron, but the writers say another problem was finding someone willing to follow in original star Rik Mayall's footsteps.
And they also said that while the world of the alt-right and fake news should be perfect for a B'Stard revival, they found it difficult for their scripts to outdo political reality.
In an end-of-year post on their website, the pair said: 'It's almost impossible to find an actor prepared to step into the giant highly polished brogues previously worn by the late great Rik Mayall.
'It's almost as difficult to find a TV channel willing to broadcast the sort of scurrilous filth that characterised The New Statesman.
'Present day politics are so bizarre and extreme. It's tough for mere satirists to come up with storylines more outrageous than real life.
'Nevertheless, we still have a cunning plan... More next year, we hope.'
The pair are also working on a Birds Of A Feather spin-off for next year's Edinburgh Fringe, provisionally called Early Birds.
The title suggests a prequel to the exploits of Sharon, Tracey and Doreen – played by Linda Robson, Pauline Quirke and Lesley Joseph on screen – and would tie in with the sitcom's 30th anniversary.
Writing about the TV show's genesis on their website, the pair said: 'The route from idea to script to transmission was funny, intriguing, suspenseful and ultimately joyous, so we're taking these ingredients to cook up a new theatre entertainment for next year's Edinburgh Festival.
'The working title is Early Birds. Everything is in place, we just haven't written it yet.'
That's because they have been writing the long-awaited Goodnight Sweetheart stage musical. The show, which has has been rumoured since 2013 should come to fruition next autumn.
They wrote: 'This will be a small-scale production by an enterprising theatre company somewhere in London (can't tell you more yet; careless talk costs lives, but we promise to give you more information in the spring).
'We hope that a major West End show will follow in 2019.'
The pair's first musical, the Sixties-set musical Dreamboats and Petticoats had a revival tour earlier this year, eight years after it debuted.
A new Birds Of A Feather Christmas special will air on ITV on Monday at 9pm.
Published: 15 Dec 2017
Recent News
What do you think?