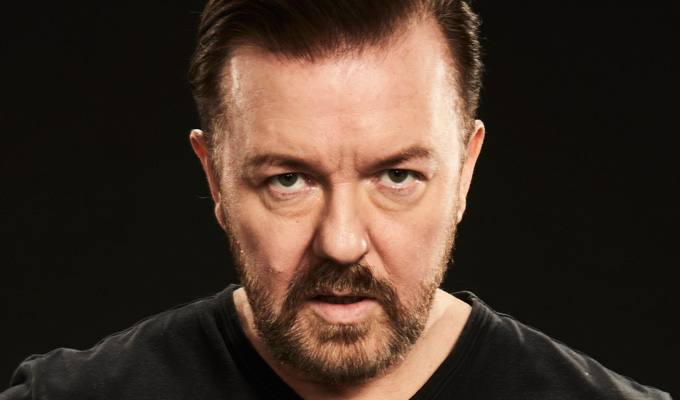 Ricky Gervais's radio show comes to iTunes
Ricky Gervais's radio show is being released as a series of paid-for downloads on iTunes.
The comic became the highest paid UK radio presenter in the world when he signed with US satellite broadcaster SiriusXM in October.
The first five episodes have been released on iTunes and Acast today for £1.95 for the full set.
Guests who have so far appeared on Ricky Gervais is Deadly Sirius have included David Baddiel, musician Noel Gallagher, and scientists Richard Dawkins and Brian Cox.
Gervais said: 'I started out in radio, and Sirius made me an offer to return that I couldn't refuse.
'With 32 million subscribers, editorial control, my own playlist and absolute freedom of speech, it's the perfect platform for me, and hopefully the listener too.
'I'm very glad my worldwide fans outside of the US will also be able to listen to the shows when they launch on iTunes'.
Sirius say Gervais's show is 'the most listened-to radio show in America'. That would give it a listenership for more than 14.6million claimed by NPR's daily news show Morning Edition, which airs on more than 800 stations nationwide.
Details of the exact size of Gervais's deal have been kept under wraps, but it would have to be substantial. Radio 2 breakfast host Chris Evans receives around £2.2million a year for all his work with the BBC
Here is the full list of Gervais's guests so far. A further five episodes will be available to purchase for an additional £1.99 in the New Year.
Episode 1: Ben Bailey Smith and Huey Morgan
Episode 2: David Baddiel and Professor Brian Cox
Episode 3: Richard Dawkins and Robin Ince
Episode 4: Noel Gallagher and David Baddiel
Episode 5: Robin Ince and Sean McLoughlin
Published: 15 Dec 2017
What do you think?