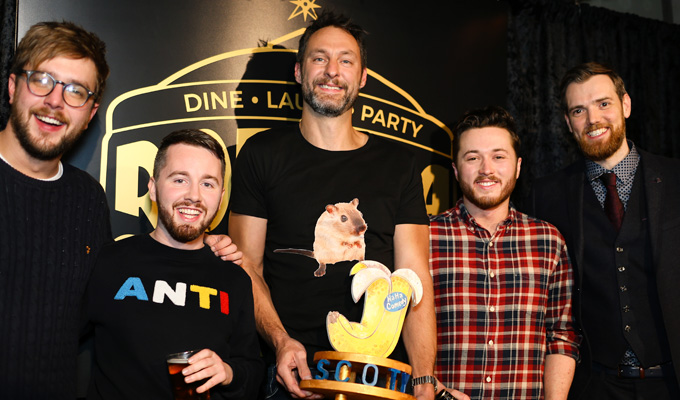 Who is Scottish Comedian Of The Year 2017?
Leo Kearse has been named 2017's Scottish Comedian Of The Year.
The former UK Pun Champion – who this year 'came out' as a Conservative in his Edinburgh Fringe show – triumphed at the Rotunda in Glasgow last night.
He wins £1,000 cash and a run of gigs in Australia… although his air fare is not included.
Stephen Buchanan came second and Stuart MacPherson third in the 12th year of the competition, which is not confined to new acts.
Iain Stirling, the comic who voices Love Island, hosted and the other finalists were: Rosco McClelland, Jamie Dalgleish, Donald Alexander, Kirsty Morrison, Marc Jennings, Ross Leslie, and Frenchman Sébastien Dall'Ozzo.
Full review to follow.
Pictured from left are: Stirling, Buchanan, Kearse, MacPherson and Chris Forbes from the BBC's Scot Squad, one of the judges.
Published: 27 Nov 2017
What do you think?