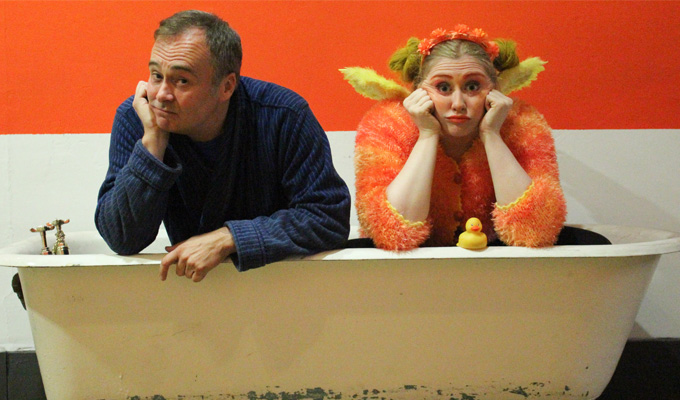 New play charts Douglas Adams's writer's block
The writer's block Douglas Adams suffered as he agonised over the Hitchhiker's Guide The Galaxy has been dramatised in a new stage play.
We Apologise For The Inconvenience chronicles the time the author was locked into a hotel room by his publisher until he finished his fourth Hitchhiker's book, eventually entitled So Long, And Thanks For All The Fish.
To get him to finish the 1984 novel, Sonny Mehta locked Adams in a suite at the Berkeley Hotel in London for two weeks. The writer later recalled: 'It was simple. I sat at the desk and typed and Sonny sat in an armchair and glowered.'
However in the new play, Adams – who famously took long baths in the hope of finding inspiration – is left alone with his rubber duck… who then takes on a physical form
Playwright Mark Griffiths said: 'Adams was famed for being scatter-brained and notoriously and infuriatingly late with his manuscripts. In fact, he once famously joked that he loved the whooshing sound deadlines made when they went by.
'But this was a difficult time in his life. Hollywood had just refused Hitchhiker's, leaving Adams to reflect sometimes bitterly on what he had achieved and where he should go next.
'Being the writer and serial bather he was, I thought that his muse ought to be a rubber duck.'
Actor Rachel Howard is billed with bringing Adams's bath toy to life; while Pete Gibson plays the author.
Gibson said of the play: 'Mark has written it so well in that Pythonesque style of his that I am sure Douglas Adams would have approved!'
Griffiths' credits include co-writing Charlie Brooker's TV series and book TV Go Home and Radio Wales political sitcom The Basement
We Apologise For The Inconvenience is produced by Gareth Kavanagh who also edits cult Doctor Who fanzine Vworp Vworp and who is premiering the show in both Manchester and Liverpool in a bid to plug the 'black hole between two hot-beds of independent art'.
He said: "Manchester has long had a dynamic fringe theatre scene and Liverpool is legendary for its music and comedy. But both have become a bit insular.'
The one-act play, directed by Emma Bird, will be performed at 81 Renshaw Street Theatre in Liverpool on November 21 and 22; and Three Minute Theatre in Manchester's Northern Quarter on November 25. Tickets are available here.
It comes ahead of next year's 40th anniversary of the first broadcast of the Hitchhiker's Guide The Galaxy on Radio 4. Adams died in 2001 at the age of just 49.
Published: 6 Nov 2017
What do you think?