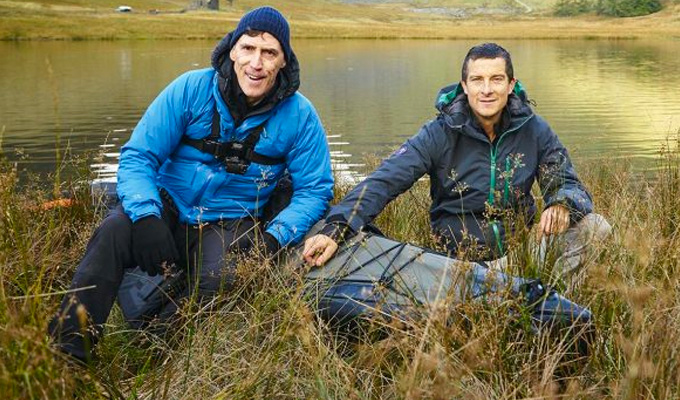 Rob Brydon roughs it with Bear Grylls
Rob Brydon is to forego the comforts of the Michelin-starred restaurants and five-star hotels of The Trip for a trek in the wilds of Snowdonia with Bear Grylls.
The comedian is to be the guest on ITV's Bear's Mission next week, with the pair starting their adventure by dropping 30ft from the open door of a helicopter into a freezing lake.
The pair also abseil into a 200ft deep sinkhole, which even Grylls admits is 'a long way down'.
Brydon is not convinced it's a good idea but the survivalist has dropped their food and supplies into the hole so they have no option.
They spend the night seeking shelter on rocky grass in the skeleton of a former miner's cottage in an abandoned slate mining village, before exploring the caves the following day. After a tense trek into the heart of the mountainside, they have to make their escape, climbing up a treacherous, near vertical mine shaft.
Brydon admits to being out of the comfort zone, confessing before their adventure: 'This is not my usual habitat, I was on stage last night doing a stand-up show…I do have a horrible nagging fear that when it gets to it. I think, actually, oh I can't do this. There is a fear of bottling it.
'This is reminding me when I was about six. I joined the Cubs for a week and left because it was too rough. So this really is a chance for me to redeem that little boy that wimped out of the Cubs. If I have to die anywhere – Wales.'
Bear's Mission with Rob Brydon airs on ITV at 9pm on Friday November 3.
Published: 27 Oct 2017
What do you think?