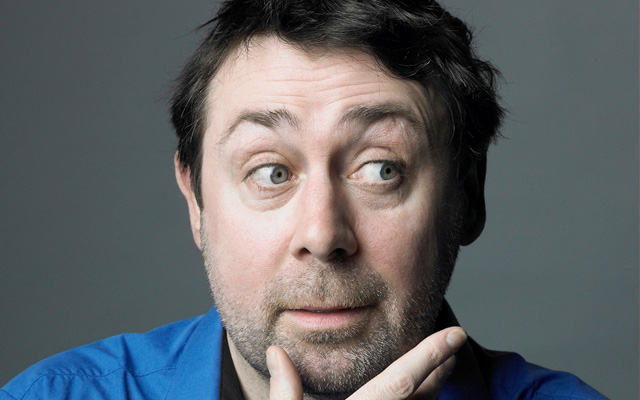 Goodbye Sean
It would have been the comedy line-up of the year.
But the roll-call of comedians who gathered in North London yesterday were there not to perform, but to pay tribute to a fallen colleague, Sean Hughes.
Phill Jupitus, his opposing team captain on Never Mind The Buzzcocks was among the comics at Islington Crematorium alongside Johnny Vegas, Bob Mortimer, David Baddiel and Jack Dee.
Afterwards Baddiel tweeted : 'Sean Hughes' funeral was nearly as funny, moving, complex and musically-eclectic as the man himself. A great tribute.'
Richard Herring, Stewart Lee, Omid Djalili and Arthur Smith joined them in celebrating the life of a comedian with the soul of an artist. A man who pioneered the theatrical one-man stand up, but was known to millions for his role on the musical panel show.
And mourners tried to stay true to his wishes that his send-off be a happy affair. In a poem entitled Death, written 23 years ago, he said: 'I know how boring funerals can be...I want people to gather, meet new people, have a laugh, a dance, meet a loved one...I want people to have free drink all night.'
Also there was Adam Hills, who previously revealed that Hughes – who had never married and never had children – told him he was leaving his property to charity, and Mark Steel, who shared the celebration's playlist.
Played to mourners were Ankle Shackles by King Creosote; Cosmic Hero by Car Seat Headrest; Kennedy by The Wedding Present; Somewhere Only We Know by Lily Allen; Bye Bye Baby by Bay City Rollers and most aptly of all, Heaven Knows I'm Miserable Now by his beloved Smiths.
The service featured Hughes' poem Bliss In Abyss, about the tingling anticipation he has after meeting a woman and agreeing on a date and spending the next 24 hours imagining what might be - 'my mind races away with romance, happy thoughts flicker away, I'm a nicer person. I skip into the future, dreaming of a time when we know each other…' – only for her not to show up.
And still the list of comedians paying their respects went on: Ardal O'Hanlon, Rhona Cameron, Jason Byrne, Reece Shearsmith, Bob Mortimer, Mark Thomas. And from the world of acting, Peter Davison, Hughes's co-star in The Last Detective, and his neighbour, David Tennant
Hughes died last week at Whittington hospital, reportedly from liver cirrhosis. It was the same hospital he was born in 51 years ago.
Published: 24 Oct 2017
What do you think?