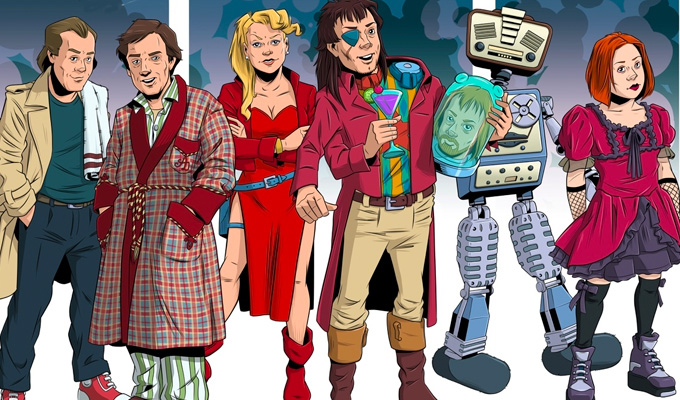 The Hitchhikers' Guide To The Galaxy is back!
Radio 4 has confirmed the return of The Hitchhiker's Guide to the Galaxy to mark its 40th anniversary.
Chortle first revealed the project back in May last year, disclosing that John Lloyd, the former flatmate of Hitchhikers creator Douglas Adams, would be the Voice of The Book.
The sixth series in the 'trilogy', the Hexagonal Phase, is based on Eoin Colfer's 2009 novel And Another Thing, commissioned to continue the story of Arthur Dent and his cohorts.
It will also include unpublished material by Adams, sourced from notebooks and writings preserved in the library at St. John's College in Cambridge.
Simon Jones will reprise his role as Dent, starring with other members of the previous radio, television and stage casts, including Geoff McGivern as Ford Prefect, Mark Wing-Davey as Zaphod Beeblebrox and Sandra Dickinson as Trillian, as well as guest stars including Jane Horrocks as Fenchurch.
Jones said: 'It seems extraordinary that it's been 40 years since we recorded the first pilot episode for BBC radio; how modest were our expectations then, and how amazing a worldwide phenomenon it became, and continues to be.
'I never expected to still be searching for a decent cup of tea and some kind of answer to Life, the Universe and Everything almost a lifetime later. Still, the dressing-gown and towel may be a little threadbare, like my hair, but my voice, much to my surprise, hasn't changed a decibel, and despite years in America, I can still talk Arthur's "indignant-posh".
'This may be the wittiest and most epic adventure yet, and I'm especially pleased we're in the talented hands of Dirk Maggs who is better qualified than anyone to script and produce us. It's always a joy to be reunited with Geoff McGivern, as my partner in space and time, Ford Prefect.
'Over the years, we've lost some great friends, and we still miss them, but we've also gained other valued colleagues, and for this trip across the Galaxy we have a tip-top team all ready to do justice to Douglas' unique and quixotic vision.'
Lloyd previously played The Book in Radio 4's 2014 re-recording of Fit The First, the first episode of the original 1978 radio series. The fifth radio series, based on Adams's last book Mostly Harmless, finished in 2005.
The Hexagonal Phase, which will run for six episodes, is expected to be broadcast on Radio 4 in spring next year.
It is one of two sci-fi comedies announced by Radio 4's commissioning editor for comedy, Sioned Wiliam tonight, the other being The Quanderhorn Xperimentations from Red Dwarf co-creator Rob Grant and 2point4 children creator Andrew Marshall.
Both shows will be the subject of panels at London Comic Con later this month.
Published: 12 Oct 2017
What do you think?