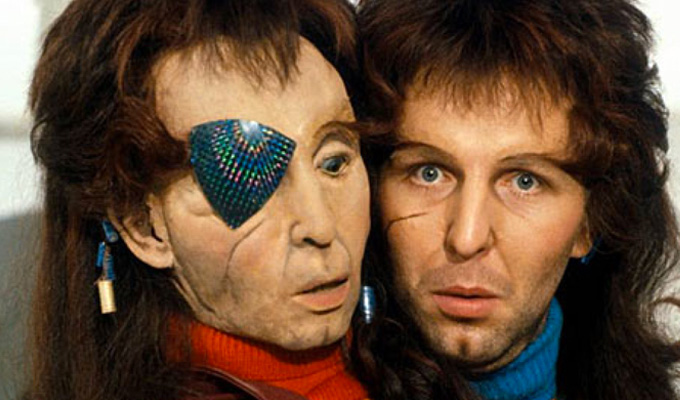 Hitchhikers' Guide returns to Radio 4
The Hitchhiker's Guide To The Galaxy is returning to Radio 4 with its first series in more than a decade – and featuring John Lloyd as the Voice of The Book.
The sixth series in the 'trilogy', the Hexagonal Phase, is based on Eoin Colfer's novel And Another Thing… but also features previously unpublished material from creator Douglas Adams.
It reunites the original radio cast of Simon Jones as Arthur Dent, Mark Wing-Davey as Zaphod Beeblebrox and Geoff McGiven as Ford Prefect. And Sandra Dickinson reprises the role of Trillian that she first played in the BBC TV adaptation.
Six new half-hour episodes are scheduled to air from May next year, directed by Dirk Maggs.
Colfer's novel was published in 2009, eight years after Adams died of a heart attack, It began where Adams's final novel, Mostly Harmless ended, with Arthur, Ford, Trillian and Trillian's daughter Random standing inside Club Beta, while the Earth is about to be destroyed by mercenaries hired by the Vogons.
Reviews for Colfer's novel, the sixth in the series, were mixed, with Mark Lawson in the Guardian calling it 'the best post-mortem impersonation I have ever read', considering the book 'a perfectly calculated adaptation', while Private Eye dismissed it as a 'mostly humourless … lame re-animation'.
Prior to his death, Adams had said: 'I suspect at some point in the future I will write a sixth Hitchhiker book' and 'People have said, quite rightly, that Mostly Harmless is a very bleak book.
'I would love to finish Hitchhiker on a slightly more upbeat note, so five seems to be a wrong kind of number; six is a better kind of number.'
Lloyd – who helped Adams write the original books before his friend and flatmate sacked him – played The Book in Radio 4's 2014 re-recording of Fit The First, the first episode of the original 1978 radio series.
The fifth radio series, based on Mostly Harmless, finished in 2005.
A new adaptation of Adams's other series of novels, Dirk Gently's Holistic Detective Agency, is about to begin filming for BBC America with Samuel Barnett as the titular detective/conman and Elijah Wood as his assistant Todd. Stephen Mangan and Darren Boyd played Gently and Todd in the 2010 BBC Four  series.
Yesterday was Towel Day, when Hitchhikers fans commemorate Adams, a fortnight after the date of May 11, the day he died, supposedly because it takes people a while to get organised.
– by Jay Richardson
Published: 26 May 2016