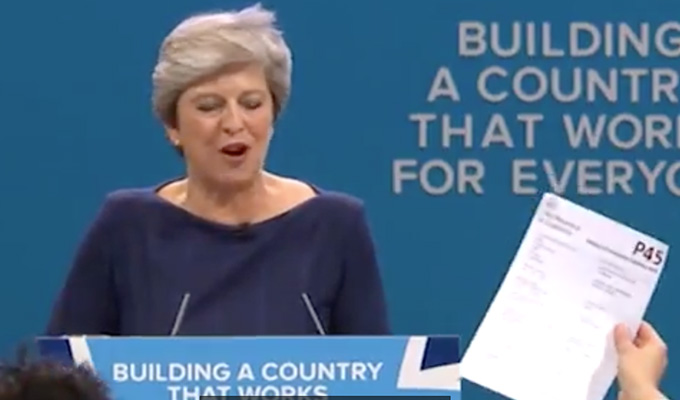 Simon Brodkin gives Theresa May her P45
Simon Brodkin has pranked Theresa May – handing the Prime Minister a P45 on stage at the Tory Party conference.
The comic, best known for his alter-ego Lee Nelson, appears to have made his way to the stage by posing as a photographer.
As he handed over the P45, he said: 'Boris asked me to give you this.'
Then Brodkin turned to the Foreign Secretary and gave a 'thumbs-up' sign.
May took the form, then continued her speech, repeating herself in case she hadn't been heard over the commotion - getting a round of applause from the crowd, who started chanting: 'Out!" to Brodkin as he was led away by security.
As he was bundled out of the conference hall in Manchester, the comedian pleaded: 'Boris, please say you did this!'
But the crowd took to their feet to give May a standing ovation.
The Prime Minister joked: 'I tell you who I'd like to give a P45 to and that's Jeremy Corbyn.'
But the speech only got worse for her as letters starting falling from the campaign slogan on the backdrop began falling off, leaving the Tories promising to build a country 'or everyon'.
Brodkin later tweeted about the incident:
Hi @BorisJohnson, I gave Theresa her P45 just like you asked. pic.twitter.com/gzW0UluDMv

— Simon Brodkin (@simonbrodkin) October 4, 2017
After the prank he was driven off in the back of a police van in handcuffs:
Comedian Lee Nelson being led away by police after his high profile prank at the Tory conference pic.twitter.com/9uujUM3zxT

— Jon Vale (@JonValePA) October 4, 2017
Brodkin has previously thrown fake banknotes over disgraced former Fifa president Sepp Blatter at a news conference; invaded the Glastonbury stage when Kanye West was performing; interrupted Donald Trump on his Scottish golf course and pranked VW chief executive Matthias Müller at the Geneva Motor Show.
Earlier this year, his exploits were the subject of the Channel 4 documentary Britain's Greatest Prankster.
Published: 4 Oct 2017
What do you think?