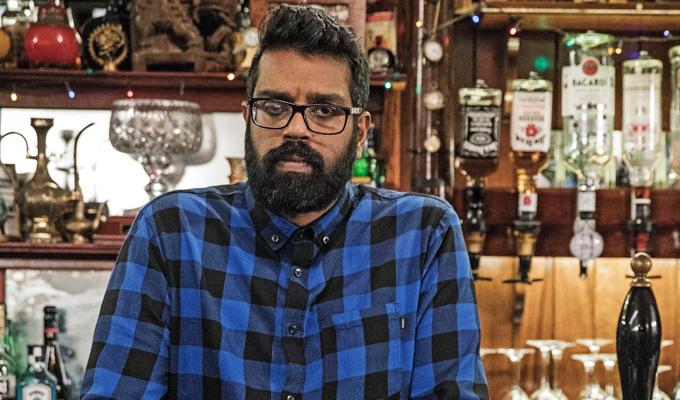 Sky picks up Romesh Ranganathan sitcom
Sky1 has picked up Romesh Ranganathan's semi-autobiographical sitcom The Reluctant Landlord.
It revolves around a character also called Romesh, who reluctantly runs a pub he inherited after his father died, despite the locals' unwillingness to accept him.
The comedy, which Ranganathan also wrote, will co-star Car Share's Sian Gibson as his wife, Natasha, and comedian Seann Walsh – currently appearing in Jack Dee sitcom Bad Move – as best mate Lemon.
Ranganathan did indeed briefly try running his father's pub in East Grinstead, West Sussex, with his brother, and ran a gig there when he was an open spot stand-up.
He said: 'After my father passed away and I was forced to run a pub a few years ago I remember thinking: 'The best way to turn this into a positive would be to write a sitcom based on the situation for Sky 1.
'I am delighted to finally see this very specific, long-term plan to fruition. The production team and channel have both been incredibly supportive. I say this both because it's true and so that they can't distance themselves from the project if it's a failure.'
When Chortle first wrote about the project in 2015, the sitcom focused on a disillusioned criminal barrister who takes over a village pub and is keen to get involved in the community, even if it's 'at odds with his natural predilection for being pretty unsociable' and 'short tolerance for idiocy'.
The pilot was directed by The Inbetweeners' Ben Palmer, and the series is made by production company What Larks!, whose credits include Jo Brand's social work sitcom Damned, which also featured Ranganathan in the pilot.
The Reluctant Landlord – which is still a working title – will air in a 10pm slot, which Sky1 is planning to be a regular place in the schedules for 'mischievous', 'grown-up' comedy. Also announced for that slot today is Karl Pilkington's first scripted comedy, Sick Of It.
Published: 21 Sep 2017
Recent News
What do you think?