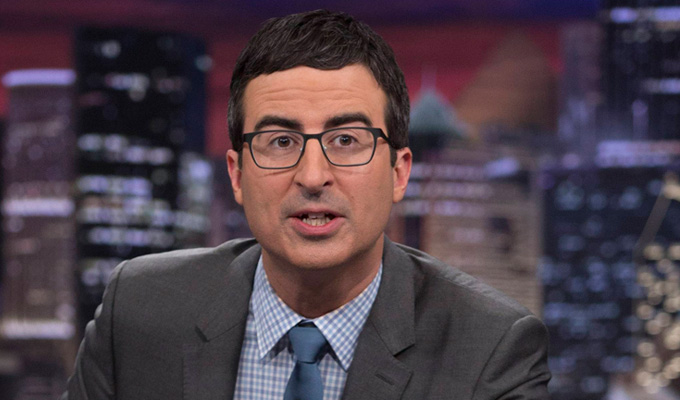 More Emmys for John Oliver
Last Week Tonight with John Oliver scooped two Emmys in Los Angeles last night.
After the show was named Best Variety Talk Series for the second year running, the comedian joked about flying his whole staff to the ceremony.
He said they 'got so wasted after last year's award ceremony that they turned up to Universal Studios, either hungover or actively drunk, and threw up on roller coasters.
'So Universal Studios, if there is someone vomiting on the Harry Potter ride tomorrow, they work for us. We have a show on Sunday. Please send them home'
Earlier Oliver and his team had won an Emmy for the writing on the show. Then he used his acceptance speech to get the hashtag #dcpublicschools trending on Twitter, in support of public education in Washington.
Julia Louis-Dreyfus made Emmy history by taking home her sixth consecutive award for best actress in a comedy category for her role as Selma Meyers on Veep.
It is the most Emmys won by a performer for the same role, overtaking with Candice Bergen, who won five times for playing Murphy Brown.
She joked that the writers had planned a storyline about an impeachment 'but we abandoned that because we were worried someone else might get to it first'.
Veep won best comedy series, with new showrunner David Mandel thanking creator Armando Iannucci 'for creating this show and for loving his family so much that he left it'.
And he joked: 'This show really works because we have a no jerk offs policy on this show and other than Julia we really stick to it.'
HBO announced earlier this month that next year's seventh season of Veep will be its last.
More history was made in the best comedy writing award, which was shared by Lena Waithe and Aziz Ansari for penning his Netflix sitcom Master Of None.
Waithe became the first Black woman to ever win the Emmy for that category.
She said: 'Thank you for embracing a little Indian boy from South Carolina and a queer black girl from Southside of Chicago.
Sketch institution Saturday Night Live took home four Emmys, including best supporting actor for Alec Baldwin, for his portrayal of Donald Trump, and Kate McKinnon, who played Hillary Clinton among others.
SNL also won best variety sketch series and best variety series directing to add to its two guest Emmys from last weekend for Melissa McCarthy as former White House press spokesman Sean Spicer and Dave Chappelle for guest hosting.
Spicer himself made a brief guest appearance at the end of host Stephen Colbert's opening monologue, after the comedian asked if someone could predict how large this year's Emmy audience would be.
Referencing the false claims he made about Trump's inauguration crown, he appeared at a podium to say: 'This will be the largest audience to witness the Emmys, period - both in person and around the world.'
And Charlie Brooker picked up two Emmys for the Black Mirror episode San Junipero – for writing and for best TV movie.
He said: 'I've heard 2017 described as like being trapped in one long, unending Black Mirror episode – but I'd like to think that if I'd written it, it wouldn't be quite so on the nose, with all the Nazis and hate.
'San Junipero was a story about love, and love will defeat hate. But it will need a bit of help."
Donald Glover also won two Emmys: for best comedy actor and for best directing in a comedy series for Atlanta.
Published: 18 Sep 2017
What do you think?