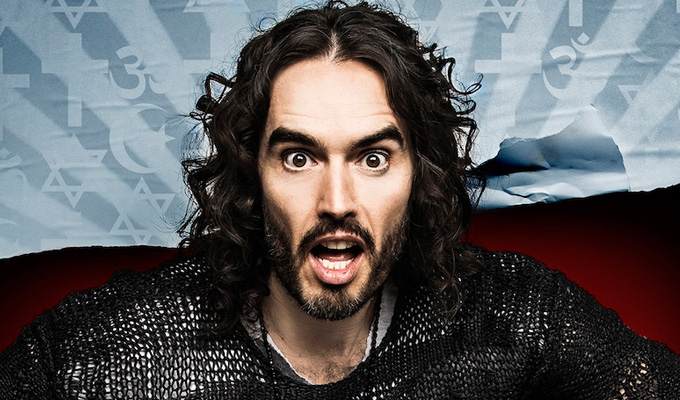 Radio X... rated
Russell Brand has landed in trouble for another radio broadcast containing inappropriate sexual content.
The comic – who sparked the Sachsgate scandal with Jonathan Ross that rocked the BBC – has been probed by watchdog Ofcom over his Sunday lunchtime Radio X show.
And the regulators upheld the complaint about an interview broadcast on May 28, when he asked Elvis impersonator James Burrell about whether he had ever had sex in costume.
The guest admitted he had kept the cape on, but not his jump suit, saying: 'They're studded, you see, and they get very spikey and so they can cut you in places that you wouldn't imagine.'
Brand added: 'I'm, I'm imagining them, James!'
Burrell continued: 'And if you're on top of somebody, you know…'
Brand interrupted: 'Very, er, you're a bit of a brutal lover there, James!'
Burrell: 'Well, yes, I am, especially when I'm covered in rhinestones!'
Brand: 'Phwoar, that's the way to do it!"
Co-host Matt Morgan later reprimanded Brand for 'sexualising everything', stating the comic had asked a 'disgusting, dirty little question.'
The show's resident poet Mr Gee then chimed in: 'Do you remember that documentary where I think Elvis came out of a hotel and he said he'd just met a prostitute and he just goes to his friend: "You know that prostitute you showed me? She gives tremendous head, tremendous head"?'
One listener complained that the exchange was inappropriate for a show which airs from 11am to 1pm, when children were likely to be listening.
Radio X's parent company, Global Radio Holdings, said the comments about sex were only a 'fleeting moment' within the discussion and that Brand's listeners 'expect edgier content in his show than on family-orientated pop music stations'.
Global also pointed out that 'when Mr Gee … made some further comments the presenter was also quick to shut these down and move on to the next topic'.
However the company acknowledged that, 'in hindsight… some of the further comments that followed the initial conversation strayed into more mature themes'.
Regulators at Ofcom sided with the complainant, saying parents 'were unlikely to have expected this material at this time, especially as the item focused primarily on the interviewee's role as a tribute act'
And they said the broadcaster could have done better to cut the adult themes, given that the show was pre-recorded. It therefore censured Radio X for breaching broadcasting rules.
Published: 29 Aug 2017
What do you think?