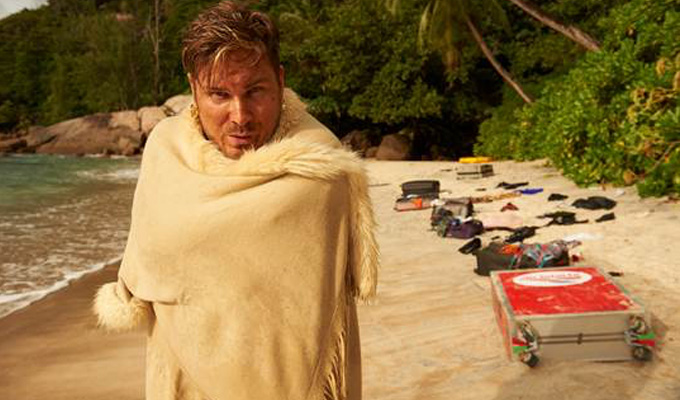 E4 picks up Marc Wootton's desert island sitcom
Marc Wootton is making an E4 sitcom set on a desert island, Chortle can reveal.
The character comic will write and star in High & Dry, in which the survivors of a plane crash wash up on a remote Pacific island.
Wootton, the creator of spoof psychic Shirley Ghostman, plays sociopathic Australian air steward Brett Sullivan in the comedy. Currently shooting on location in the Seychelles, it was piloted as a Channel 4 Blap in 2015.
Vicki Pepperdine also stars as the plain-speaking Harriet, with Harry Peacock – who plays Toast of London's rival Ray Purchase – as cautious family man Douglas.
People Just Do Nothing's Asim Chaudhry is the spaced-out Arnab, while US actor Grace Rex, who appeared in Ben Stiller's film of The Secret Life of Walter Mitty, plays the dutiful Susan.
The six 30-minute episodes, made by Steve Coogan's Baby Cow Productions, follow the survivors as they try to band together to keep themselves alive, even as the overbearing Sullivan declares himself 'King of the Island'.
Wootton said: 'Having helped me develop the project from its infancy, I am honoured to be working with the fantastic team at Channel 4 again. Baby Cow are peerless when it comes to scripted comedy and I can't think of a finer producing partnership.
'We are fortunate enough to have attracted the finest of comedy casts who make me laugh daily. The only shame in all this is that we are being forced to film the entire show in the Seychelles. The commute is nightmarish.'
High & Dry is directed by Dave Lambert, whose previous credits include Alan Partridge and The Mighty Boosh, with Mid Morning Matters's Kerry Waddell producing.
Paul Schlesinger and Christine Langan executive produce for Baby Cow. The series was commissioned by Fiona McDermott, Channel 4's head of comedy and commissioning editor Jack Bayles.
Bayles said: 'In High & Dry, Marc has conceived a brilliantly ambitious, yet utterly ridiculous new sitcom. Alongside Brett - truly the air steward from hell - is a fantastic assortment of characters played by a wonderful ensemble cast. It's totally, totally nuts and we love it'
Wootton, who began his comedy career in the spoof eco-warrior group Cyderdelic alongside Barry Castagnola and Liam Woodman, initially came to prominence in the 2005 BBC Three series High Spirits With Shirley Ghostman, a character he has intermittently performed live and reprised for the 2010 series La La Land.
In recent years, Wootton has had guest roles in Inside No. 9, Psychobitches and Drunk History. But High & Dry is his first broadcast vehicle since the 2013 BBC Three assisted suicide comedy Way To Go, which co-starred The Inbetweeners's Blake Harrison.
Here is the High & Dry Blap:
- by Jay Richardson
Published: 17 Jul 2017
What do you think?