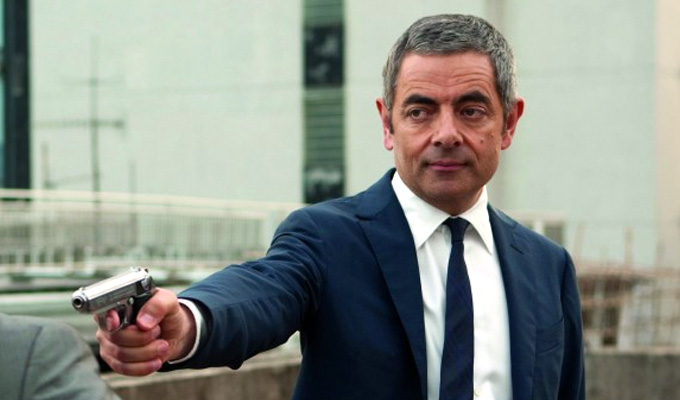 Rowan Atkinson to make Johnny English 3
Rowan Atkinson is to make a surprise comeback as Johnny English, eight years after the bumbling spy's last film outing.
Chortle can reveal that pre-production has begun on the espionage spoof, with shooting due to begin in the autumn and the film set to hit cinemas in October 2018.
The plot of the third movie in the franchise, and further cast details, are yet to be revealed.
Atkinson spoke of his desire to return as the inept secret agent earlier this year while promoting ITV's detective series Maigret, telling The Sun 'we're hoping to make a Johnny English this year, so I certainly haven't turned my back on comedy.'
In January, he revived another of his iconic characters, Mr Bean, for a cameo in the Chinese film Top Funny Comedian: The Movie.
Johnny English originated in a similar character, the MI5 agent Richard Latham, in a series of Barclaycard adverts in the 1990s, with Henry Naylor as his luckless sidekick Bough. Some of the gags from the commercials were repeated in the original 2003 film.
Although not as bankable as the Mr Bean films, Johnny English, co-starring Ben Miller, John Malkovich and Natalie Imbruglia, still took £124million internationally at the box office, despite a critical panning
The 2011 sequel Johnny English: Reborn, co-starring Gillian Anderson, Daniel Kaluuya, Rosamund Pike and Dominic West, was marginally better received by critics and again took £124million.
Atkinson said in 2011 that he was too old for Mr Bean before reprising him. And he's previously remarked of English that he's 'an enjoyable character to play'.
'He's fun and he's rather human,' he said. 'I think he's a rather realistic character. Perhaps he's a more realistic and believable character than James Bond, in many ways. James Bond is just a superman. It's rather fun to play someone with more faults and foibles.'
Chortle approached the film's makers, Working Title for comment but they declined.
- by Jay Richardson
Published: 18 May 2017
Recent News
What do you think?