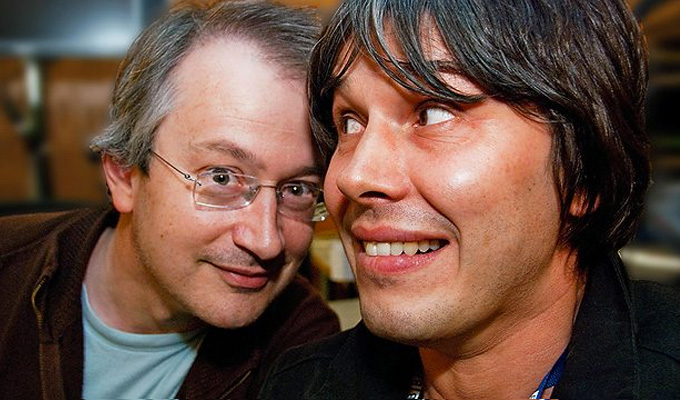 Robin Ince and Brian Cox pen Infinite Monkey Cage book
Robin Ince and Professor Brian Cox are writing an Infinite Monkey Cage book.
Entitled How To Build A Universe, the volume will be co-written with Alexandra Feachem, the producer of their Radio 4 show.
Publisher William Collins calls the book 'an irreverent celebration of scientific marvels – a hectic leap through the grand and bizarre ideas conjured up by human imagination, from dark matter to consciousness via neutrinos and earthworms'.
Cox said: 'The Infinite Monkey Cage is an audio representation of the absurdity of nature prevented from collapse by the scaffolding of reason. Whether it can survive in book form is theoretically uncertain, so we decided the only option is to conduct the experiment. This book will be the result.'
Ince added: 'For ten years I have been interrupting Brian during his equations, it is exciting to think that finally I can jumble his equations in print. It will be a mixture of hard science (Brian's speciality) and facetiousness, stupidity and childish curiosity (something I've been working on for 48 years)."
The book will be published on October 5. Preorder here.
It will be Ince's second book this autumn, as his psychological book I'm a Joke And So Are You: A Comedian's Take on What Makes Us Human will be out on September 7.
Informed by interviews with scientists as well as comedians such as Jo Brand, Ricky Gervais and Tim Minchin, the book explores why he's made the choices he did – especially in becoming a comedian.
To preorder this book, which has a foreword by Stewart Lee, click here.
Published: 11 May 2017
What do you think?