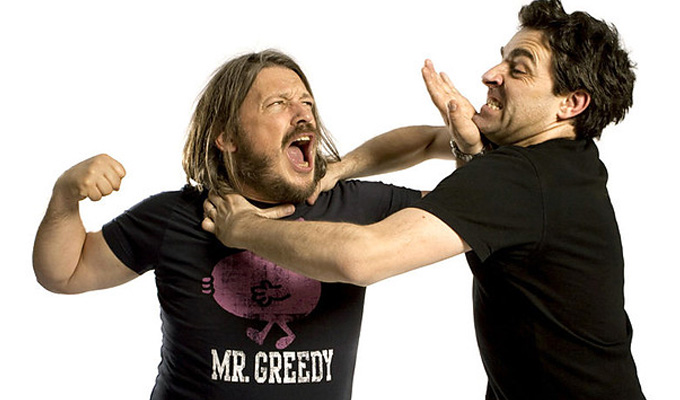 Herring and Collins back on a podcast together
Richard Herring is to be reunited with his former podcast partner Andrew Collins for the first time in six years.
The pair had a public falling-out in 2011 when Herring was upset by his friend's decision to host a show on 6Music with stand-up Josie Long – in the same Saturday-morning slot they used occupy together.
Now they will be back together when the broadcaster appears as a guest on the new series of Richard Herring's Leicester Square Theatre Podcast, which returns next month.
Other guests announced for the eight-week run include Paul Merton, Adam Buxton and Sara Pascoe.
The shows will be subsequently be released as free audio and video podcasts – with the filming of this and the subsequent 12th series funded by a future crowdfunding campaign.
The Collings and Herrin Podcast ran from 2008 to 2011, but when Collins took the temporary 6Music job with Long, Herring said that 'to do the same slot that we were doing with someone else is disloyal to [our] friendship'. For his part, Collins said the show was the idea of BBC bosses, but hoped their friendship would weather the storm, (Full story here)
The confirmed guests for the 11th series of RHLSTP, as some of the cool kids have started to call it, are as follows, with others to be confirmed.
June 5: Paul Merton and Joe Thomas
June 12: Adam Buxton and Jessica Knappett
June 19: Zoe Lyons and Andrew Collins
June 26: Dan Skinner (Angelos Epithemiou)
July 3: Katy Brand
July 10: Arthur Smith
July 17: Brendon Burns and Craig Quartermaine
July 24: Sara Pascoe and Ed Byrne
Tickets are available here. Herring will also be returning to the Leicester Square Theatre for the last nights of his current tour The Best, from June. 8 to 10.
Published: 11 May 2017
What do you think?