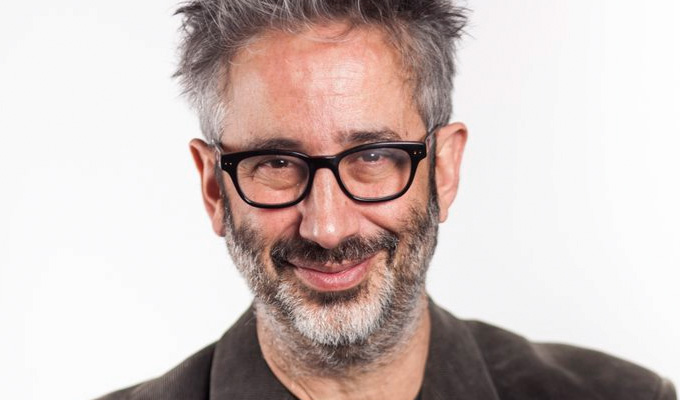 David Baddiel is adapting his stand-up show for TV
David Baddiel is adapting his acclaimed theatrical stand-up show My Family: Not The Sitcom for television.
Currently running at London's Playhouse Theatre, the candid, Olivier-nominated production focuses on his late mother's affair with a golfing memorabilia salesman and his father's struggles with dementia.
'At the moment, the way I've written it, it's kind of a drama,' the comic told BBC Radio London. 'But I come out of character the whole time to try and say, "hang on a minute, you might think this isn't true, here's a photograph of a house that's real".
'I try my best in the TV version to do that … it's not easy because I think one of the key elements of my show is me saying this is real, this really happened … and on stage that's plausible.'
Baddiel's father was the subject of the comic's recent documentary The Trouble With Dad for Channel 4, but it is unclear if a broadcaster is attached to the My Family television adaptation.
The channel also piloted his recent family sitcom Sit.Com, co-written with Barnaby Slater and starring Norman Lovett, Sarah Alexander, Dave Lamb, Rhys James and Jessie Cave.
In a busy period of re-writing, Baddiel is adapting his Radio 4 panel show Don't Make Me Laugh for television, though Chortle understands that this is not for the BBC. The series was axed in 2016, but not before attracting complaints for making jokes about the Queen's sex life on her 90th birthday.
He is also scripting a Hollywood film based on his first children's novel, The Parent's Agency, which he told Radio London was 'very exciting but quite difficult'.
'You are aware that there are kids out there who are very committed to the book, they don't really want any changes when they see it on the screen. But Fox want some changes. So that's quite a difficult thing but I'm enjoying doing it.'
However, he poured cold water on reports that he and Frank Skinner, his former flatmate and still a neighbour, are in discussions to bring back their improvised show Baddiel and Skinner Unplanned, which finished on ITV in 2005.
'The talks are what I had with the [Sun] journalist in which I said, "Oh yeah, I'd love to do that again",' he explained. I need to walk ten doors down to Frank and have a proper chat with him about it'.
- by Jay Richardson
Published: 31 Mar 2017
Recent News
What do you think?