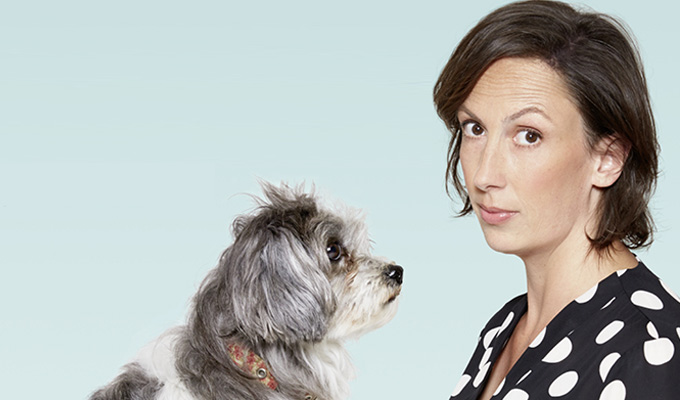 Now Miranda becomes a children's author
Miranda Hart is to become a children's author.
She has signed a three-book deal with publisher Hachette, starting with The Girl With The Lost Smile.
Aimed at eight to 12-year-olds. it tells the story of Chloe, who has to go on an 'otherworldly adventure' to recover her mojo 'with the help of some very unusual friends and mystical creatures'.
It follows Hart's move into children's TV, with her series So Sammy having launched on the Disney Channel last month.
The comedian said it had been a long-held ambition to write a book for children.
'I still remember the vivid images from the magical worlds of my favourite authors when I was younger - and I am excited that I might be able to do the same here,; she said.
'I hope it feels as fantastical and exciting to read for young people as it did for me to write. I got rather involved in all the adventures even though I was writing them!'
Publisher Hannah Black told trade newspaper The Bookseller that Hart understands 'what enthrals and engages children. And she brings her rich and boundless imagination to Chloe's world, along with all her hilarity and sensitivity, with truly magical results'.
Hart has previously written the memoir Is It Just Me?, the script book The Best of Miranda and Peggy And Me, about her relationship with her dog. And she will make her West End musical debut in Annie later this year,.
She is just the latest comedian to turn to children's literature, following the phenomenal success of David Walliams – with whom Hart co-founded the TV production company King Bert.
Other comics to have written children's fiction recently include David Baddiel, Julian Clary and Adrian Edmondson, whose debut, Tilly And The Time Machine is due out in May.
Only this week, fellow stars Dermot O'Leary and Fearne Cotton announced they are writing children's books, too, leading to criticism that non-celebrity authors are being overlooked.
The Girl With The Lost Smile is due out in October.
Published: 3 Mar 2017
What do you think?