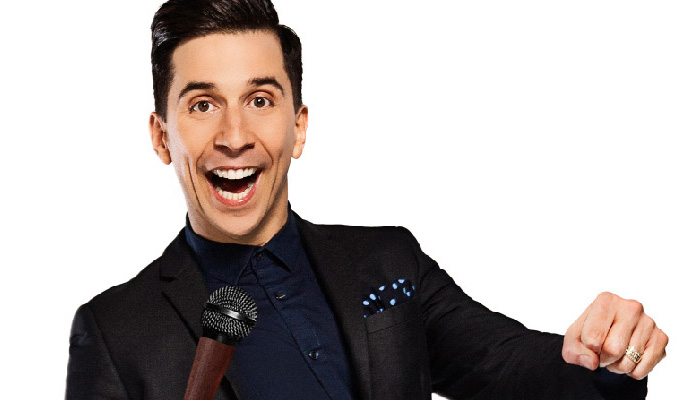 Comedy Central to stream a pub quiz
Comedy Central is hosting a Facebook Live pub quiz  to launch series three of Drunk History.
It will be hosted by Russell Kane from an East London bar, and the broadcaster claims it is the first pub quiz to be dreamed this way.
Stars from the new series will be taking part, including Charlotte Crosby, Jamie Laing, Arron Crascall, Iain Stirling, Judi Love and Tom Rosenthal.
The rounds will be based on the historical stories featured in the show and viewers will be invited to comment as the night goes on.
It will be streamed live on Comedy Central's Facebook page next Wednesday from 9pm to 9:50pm – just before the third series begins.
Here's an episode guide to the new series:
EPISODE 1
STORY: JAMES GARFIELD AND ALEXANDER GRAHAM BELL
Storytellers: Brian 'Q' Quinn & Sal Vulcano
Starring: Joe Thomas, Joe Wilkinson and Brett Goldstein.
STORY: DAMBUSTERS
Storyteller: Joel Dommett
Starring: Chris O'Dowd and Alexander Armstrong.
EPISODE 2
STORY: JOHN TUNSTALL AND BILLY THE KID
Storyteller: James 'Murr' Murray
Starring: Rufus Hound, Mathew Baynton and Mathew Horne.
STORY: QUEEN ELIZABETH I VS MARY QUEEN OF SCOTS
Storytellers: Lydia Rose Bewley and Jess Knappett
Starring: Michelle Keegan and Katy Brand
EPISODE 3
STORY: KING ARTHUR
Storyteller: Russell Kane
Starring: Stephanie Pratt, Aisling Bea and Ben Hardy
STORY: REAL CHARIOTS OF FIRE
Storyteller: Iain Stirling
Starring: Rufus Hound and Tom Rosenthal.
EPISODE 4
STORY: THE GREAT TRAIN ROBBERY
Storyteller: Joe Lycett
Starring Simon Bird and Joel Fry
STORY: BEATRIX POTTER
Storyteller: Kerry Howard
Starring: Emma Bunton and Blake Harrison
EPISODE 5
STORY: EMMELINE PANKHURST AND THE SUFFRAJITSU
Storyteller: Luisa Omielan
Starring: Jessica Hynes
STORY: HENRY V
Storyteller: Tom Rosenthal
Starring: Stephen Mangan and Guz Khan
EPISODE 6
STORY: KING ALFRED
Storyteller: Adam Buxton
Starring: Alexander Armstrong, Blake Harrison, Joe Wilkinson and Bella Younger.
STORY: ISAAC NEWTON
Storyteller: Phil Wang
Starring: Matthew Lewis and Charlotte Crosby
EPISODE 7
STORY: THE CHRISTMAS TRUCE
Storyteller: Rick Edwards
Starring: Stephen Mangan and Arron Crascall.
STORY: JOHN LOGIE BAIRD
Storyteller: Tom Parry
Starring: Paul Kaye and Jamie Laing
EPISODE 8
STORY: OPERATION MINCEMEAT
Storyteller: Miles Jupp
Starring: Jack Howard, Dean Dobbs and John Thomson
STORY: OLIVER CROMWELL KILLS KING CHARLES I
Storyteller: Judi Love
Starring: Mark Benton and Ashley Walters
EPISODE 9
STORY: SHAKESPEARE
Storyteller: Tom Davis
Starring: Mark Heap and Sian Gibson.
STORY: WILLIAM WALLACE
Storyteller: Daniel Sloss
Starring: Keith Allen and Tyger Drew Honey
Published: 1 Mar 2017
What do you think?