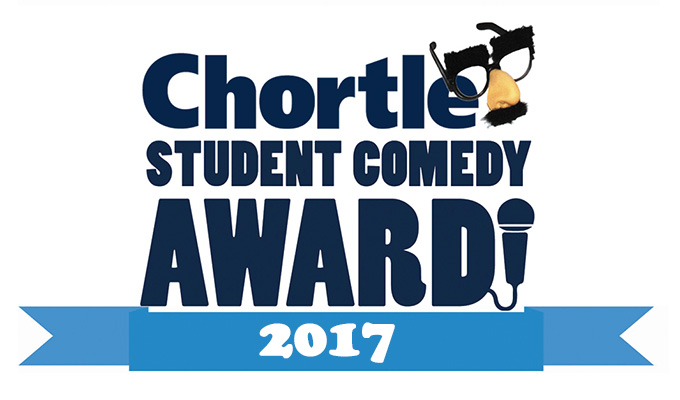 2017 Chortle Student Comedy Award
Joe Irvine, a third-year film studies student, won the heat of the Chortle Student Comedy Award in St Andrew's on Tuesday night. Clips of his set and those of the other contestants to follow…
This is the current state of affairs.
February 23: Glasgow heat
Winner: Scott Redmond, a 20-year-old, is studying an MA in philosophy at Edinburgh. Here is some of his set:
People's Choice: Brian Morton, a Dubliner who is studying for a PhD in infection and immunity at Glasgow:
February 28: St Andrews
Winner: Joe Irvine, a third year film studies student

People's Choice: Bobby Innes

March 1: York
Winner: Harry Sanders, a first year geography PhD student at Loughborough.
People's Choice: Stephen Harper
March 2: Southampton
Winner: Sean Gilbody, a third-year politics and economics graduate at Southampton.

People's Choice: Joseph Lim
March 3: Bristol
Winner: Riordan DJ, a second-year medic from Bristol.

People's Choice: Luke Yuri Prince
March 6: Cardiff
Winner: Nick West, a third year computer science and mathematics student at Bath.

People's Choice:
McClaine Bearne
March 7: Coventry
Winner: Mark Richards
People's Choice: Horatio Gould
March 8: Manchester
Winner: Frank Foucault
People's Choice: Tony Wright
March 13: Lincoln
Winner: Jack Gleadow
People's Choice: Archie Manby
>
March 14: London Brunel
Winner: Sam Knights
People's Choice: Eliott Simpson
March 23: London Goldsmiths
Winner:Dillon Mapletoft as Alexander Feisteirberg
People's Choice: Isa Bonachera
Published: 27 Feb 2017
What do you think?