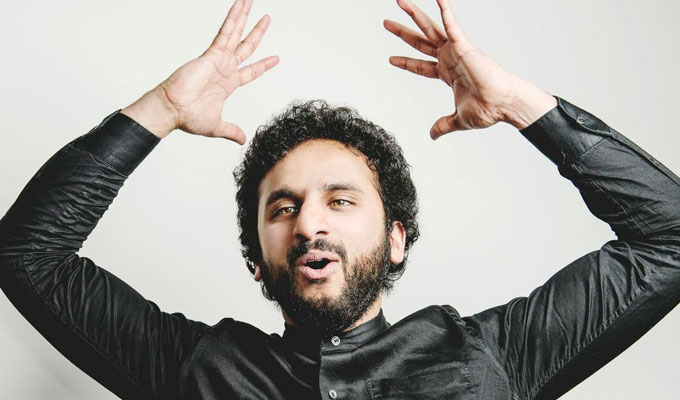 Nish Kumar pilots satirical BBC comedy
Nish Kumar is piloting a spoof news show for BBC Two with the creators of parody website The Daily Mash.
The Mash Report appears to be the latest attempt to create a UK-version of The Daily Show or Saturday Night Live, with producers promising a satirical talk show recorded live that will 'analyse the week's events, receive correspondents and go live to the news desk, where our anchors will deliver spoof headlines, and occasionally throw to reporters "at the scene"'.
Pledging to 'skewer everything from hard news to sports and showbiz as well as zeitgeist cultural phenomena', The Mash Report is being made by Princess Productions, which previously created The Sunday Night Project for Channel 4.
Inspired by satirical US website The Onion, The Daily Mash was founded in 2007 by former Sunday Times business correspondent Neil Rafferty and ex-Scotsman business editor Paul Stokes. It is currently edited by comedy writer and former BBC journalist Tim Telling.
Discussions about a television spin-off have been underway since at least 2015, with Stokes telling The Independent that he was envious of the late-night television opportunities available to satirists in America. 'We sometimes feel we're consistently snubbed by mainstream media,' he told the paper two years ago. 'But then all we do is rip the piss out of what they do.'
Current headlines on the site include 'Cameron and Osborne "in charge of Oscar envelopes"', 'Man claims his life being ruined by immigration but can't explain how' and 'Only even numbers of fruit and vegetables are healthy, experts declare'.
The pilot commission follows leaked details of other topical shows being trialled by the BBC – That's It For The Week, Live From White City, and That Thing On Friday Night. And tonight ITV launches its ultra-topical The Nightly Show, moving the news back to 10.30pm to make way for it.
In November, the BBC's director of content Charlotte Moore confirmed that she was on the lookout for new programmes 'with a satirical bent' for BBC Two. She told the Broadcast Commissioning Forum she was commissioning some pilots aimed at bringing a new generation of satirists to the screen.
That Thing On Friday Night, made by Have I Got News For You producers Hat Trick, was described as 'the frontrunner', with the likes of Katherine Ryan, Romesh Ranganathan, Sara Pascoe and James Acaster attached.
Kumar is also about to host his own topical Radio 4 show Spotlight, which will record its first series next month following a successful pilot last year.
The former Newsjack presenter has been recently installed as a regular co-host on the satirical podcast The Bugle with Andy Zaltzman, replacing John Oliver. 
And he will also be seen in the BBC's Tribal Bootcamp with fellow stand-up Joel Dommett, a travel series in which the pair meet and physically test themselves against some of the fittest people on Earth, first revealed by Chortle in September.
The Mash Report is being piloted in front of a live audience at the soon-to-close ITV Studios on London's South Bank this Thursday. Click here for free tickets.
- by Jay Richardson
Published: 27 Feb 2017
What do you think?