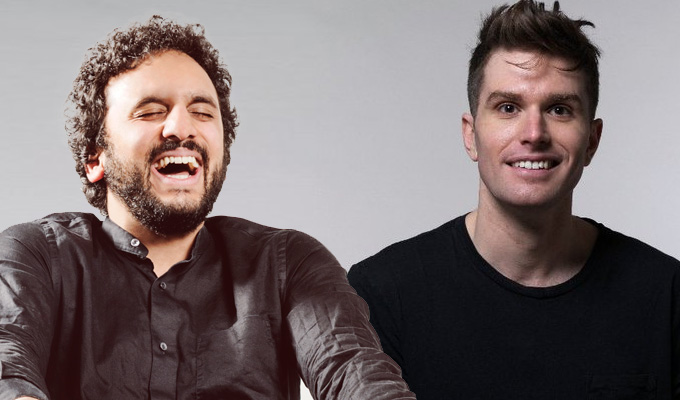 Nish Kumar and Joel Dommett in BBC travel show
Joel Dommett and Nish Kumar are shooting a BBC travelogue.
With the working title Fitter Than..., the eight-episode series will follow them as they meet some of the fittest people on Earth, including Sherpas and Masai warriors.
Shooting for five months from October, the pair will travel to such diverse locations as Nepal, Greenland, Kenya and Mexico, where Dommett will race with a barefoot ultra-running tribe.
'I'm really excited' he told Chortle. 'The idea is that I do all the fitness stuff and hopefully that'll be funny. I definitely won't be able to keep up with them but I'll try.
'And then Nish is doing the lifestyle stuff, he'll investigate the cooking and the home life while I'm running up a mountain. I'll come back and he'll look after me. It should be fun. I'm looking forward to a bit of a gap year with my friend.'
The series is made for BBC Worldwide by Rumpus Media, which also made Romesh Ranganathan's Asian Provocateur for BBC Three and Henning Wehn's Immigrant's Guide To Britain for Channel 4.
The news comes as Dommett makes his first major movie appearance in White Island, a comic thriller set in Ibiza. In it, he plays Dex, a DJ framed for drugs possession who falls foul of the local mafia.
It stars Lyndon Ogbourne as Connor, the friend who must save him, alongside Titanic star Billy Zane and Lord of the Rings's Billy Boyd, with Darren Day and rapper Example cast against type as gangsters.
Dommett, who has never taken drugs and said he was dreading visiting Ibiza for the first time, describes his part as 'comic relief sidekick' and said he 'spends most of the film pretending to be hammered, which is weird. If you pretend to be hammered for 45 minutes, it's about the same as getting properly hammered for three hours. Your inhibitions go in the same way they do when you've had ten snakebites.
'One of the most fun things I experienced was pretending to DJ to drunk people who think you're DJing. Pretending to scratch and all you do is hold your head on an earphone for about five seconds, then put your arms in the air and everyone goes mental. Then you realise how little DJs actually do.'
White Island was shot in nightclubs including Space and Pacha last year and is based on the novel A Bus Could Run You Over by Colin Butts, who also wrote the screenplay. It is released in Vue cinemas on October. The director is Benjamin Turner, best known for his sport and music documentaries, including the forthcoming I Am Bolt with sprinter Usain Bolt.
'Billy Zane is quite intense and very tall but absolutely lovely,' Dommett said. 'Here's a Billy Zane fact for you: He gets new sunglasses made especially for each part that he plays because it helps him get into the character. They are made by this amazing brand that costs loads of money. And I spent the entire shoot trying to steal these sunglasses because they fitted me better than any pair has ever fitted me.
'I had this really weird week and a half where I was in Ibiza hanging out with Billy Zane, then I'd fly back and hang out with Nicole Scherzinger shooting [Sky1 panel show] Bring The Noise. My life peaked in the summer of 2015, that was the highlight.'
White Island is Dommett's second film after his supporting role in Bashment, Rikki Beadle-Blair's 2010 adaptation of his play about a homophobic incident in a reggae dancehall competition.
The comic is also touring from September 22, a compilation of his recent Edinburgh hour, Pretending To Smoke With A Breadstick, with his previous two Fringe shows. Tour dates.
– by Jay Richardson
Published: 9 Sep 2016
Recent News
What do you think?