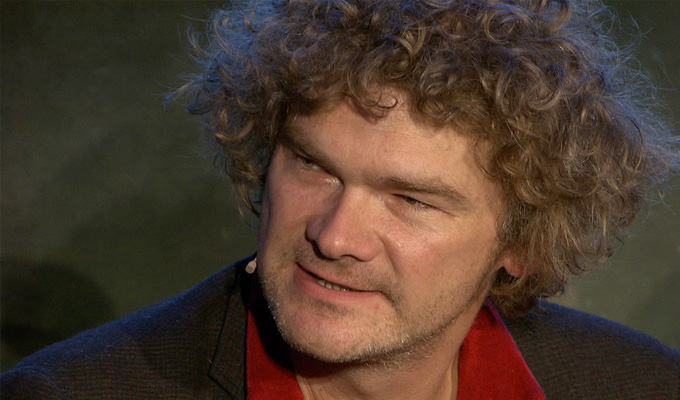 The world's worst golfer, coming to cinemas
Yonderland star Simon Farnaby is making a film about a hopeless golfer who blagged his way into the British Open, Chortle can reveal.
The Phantom Of The Open is based on the story of Maurice Flitcroft, who gatecrashed the 1976 competition by pretending to be a professional, despite having never played 18 holes on a proper course. In his qualifier he scored 49 over par at the Formby links, and has been dubbed 'the world's worst golfer' and 'Don Quixote with a nine iron'.
Farnaby wrote a biography of the sporting chancer with journalist Scott Murray in 2010, which will form the basis of the new script he's currently working on.
'There's something I love about that tilting at windmills,' he told Chortle. 'It's innately quite comic, those figures who reach for the stars and they've got a little stepladder. You're not going to get that but it's the striving isn't it? That seems to be the great comedy in life, you strive but you'll never get there. None of us will achieve immortality.'
Farnaby and Murray's book was informed by the unpublished memoirs of Flitcroft, who didn't take up golf until he was in his 40s, bought his clubs from a catalogue and wore plastic golf shoes. His antics earned him a ban from the Open, but he continued to make it to the opening tee by adopting other names and nationalities on the entry form.
His Daily Telegraph obituary described him as 'a chain-smoking shipyard crane-operator from Barrow-in-Furness whose persistent attempts to gatecrash the British Open golf championship produced a sense of humour failure among members of the golfing establishment.'
But he actually had an array of jobs, including a stunt diver in a holiday revue show, a ship's fireman, a shoe polish salesman, and an ice cream man.
Farnaby previously created the live show The Peterford Golf Club with Gary Le Strange creator Waen Shephard, which became a one-off pilot for E4 in 2007 called Golf War, and also starred Matt Berry, Nina Conti and Rich Fulcher.
Radio 2 also piloted a version in 2015. However, 'that's died' he told Chortle. 'I'm letting that one go. But Phantom, that'll make a good film I think.'
Farnaby is about to be seen in the film Mindhorn alongside Julian Barratt, who plays a washed-up actor called upon to reprise his 1970s role as a bionically enhanced detective, in order to track down a deranged killer on the Isle of Man. The pair co-wrote the movie, which will be released nationally in May following screenings at the London and Glasgow Film Festivals.
It was announced last week that fantasy series Yonderland had finished after three series on Sky, but Farnaby confirmed that the core team are beginning development on a new project.
'We are but I can't really say what it is' he revealed, acknowledging that they would 'love' to make a sequel to their Shakespearean feature film Bill. 
'We're just developing something. But we haven't got anything set yet. We all get on really well and are mates and would like to continue doing stuff together.'
- by Jay Richardson
Published: 24 Feb 2017
What do you think?