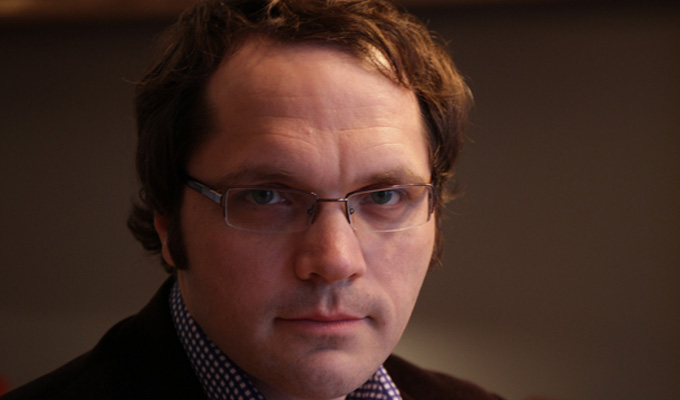 Garth Marenghi creator directs his first film
Garth Merenghi creator Matthew Holness is to direct his first film, a psychological horror about a demonic puppet.
Possum is based on his own short story of the same name and stars Sean Harris as Philip, a disturbed puppeteer.
Holness has described the film as 'not remotely funny'.
Originally written for the 2008 horror anthology book, The New Uncanny: Tales of Unease, the plot focuses on the relationship between Philip and the hideous hand puppet, Possum, as the puppeteer returns to his childhood home to stay with his cruel stepfather Maurice.
Holness has called it 'a supernatural horror combining the stark psycho-drama of George Romero's Martin with the uncanny terror of Dead Of Night'.
He added: 'The film draws on the dark nightmares of silent expressionist horror, British classics such as The Innocents and Don't Look Now, as well as the claustrophobic suburban gothic of Pete Walker's Frightmare.
'Possum will terrify in the best tradition of classic horror cinema, evoking an atmosphere of supernatural dread and creeping horror.'
The film is currently in post-production after shooting in Norfolk in November, with further cast details yet to be announced.
Holness recently wrote, starred in and directed the Halloween short Smutch for Sky Arts and has made the short films The Snipist and A Gun For George, which he has been trying to adapt into a feature, The Reprisalizer, since 2011. Like Possum, it focuses on a paranoid protagonist losing touch with reality, a troubled pulp fiction writer who becomes a vigilante.
Holness is following his Garth Merenghi co-stars Richard Ayoade and Alice Lowe in writing and directing a feature film. Ayoade made Submarine in 2010 and The Double in 2013, while Lowe's Prevenge is released in cinemas on February 10. She previously co-wrote and starred in 2012's Sightseers with Steve Oram.
Garth Meranghi's Darkplace, set in a hospital 'in pre-apocalyptic Romford', ran for one series on Channel 4 in 2004 and attracted about 1.2million viewers.
Holness has confirmed that he and Ayoade planned to make a movie spin-off, but 'it didn't happen'
'We kind of went our separate ways,' he told the US website Observer last year. ' Rich [Richard Ayoade] wanted to direct films and I wanted to go into writing other stuff. Who knows, at some point maybe, we might get round to thinking about it. Not at the moment though.
'We wrote a script actually. To be perfectly honest, I don't think it was that good. It wasn't quite right. It was basically a Fifties insect invasion sort of thing, it was a feature film based in that sort of area.
'Maybe because the format for TV worked quite nicely and maybe we didn't hit the right format for a feature film structure.'
• Alice Lowe chooses her favourite horror films
Published: 24 Jan 2017
What do you think?