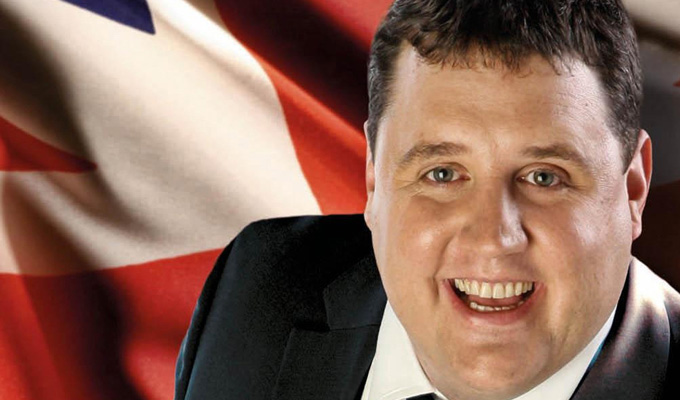 NOT Peter Kay, just a fat bloke
• 'I live with this constant fear: When am I going to be unpopular? Have I only got 15 minutes of fame? And have I only got seven minutes left now?' Miranda Hart.
• Charlotte Dawson wants to have a cardboard cut-out of her dad Les at her wedding, so she can feel his presence. The comedy great died when Charlotte, who now appears in Ex On The Beach, was  just eight months old.
• When Peter Kay popped into an Indian restaurant in Tiverton, Devon, last month he made the local newspaper, which reported that he'd ordered a 'Ganges Special with pilau rice and a peshwari naan' and that the manager had discouraged diners from taking photos during the meal. Only problem was, as the Exeter Express and Echo was forced to concede this week: it wasn't the chubby funnyman chowing down, but the brother of the restaurant's delivery driver. Meanwhile the paper was keen to list the comedians who HAVE been to the town. Russell Howard, for instance, did a gig there nine years ago…
• The only known colour footage of bizarre sand-dancing act Wilson, Keppel and Betty has been released online. It dates from December 1949 and comes from a  production of  the panto Aladdin.  Their biographer, Alan Stafford, posted it to promote the repeat airing of his documentary about the variety hall act, which goes out on Radio 4 Extra on Wednesday next week (Though it is already on iPlayer here).  

• William Shatner is to become a stand-up comedian. The 85-year-old will take to the stage of a New York club for AXS TV's Gotham Comedy Live, which airs in the States next month. He joins a roster of hosts that includes Cedric the Entertainer, Paula Poundstone and Cheech and Chong. It's not entirely a strange new world for the Star Trek icon, however, as he hosted two gala shows at Montreal's Just For Laughs in 2007.
• It was the a symbol of the brash, unsophisticated new money of Rodney Dangerfield's character Al Czervik in Caddyshack. But now his cruiser, Seafood, could be yours. The 60ft Striker Sportfisherman, really called Big Dog, is now moored in Maryland and up for sale for just over £100,000 via Yachtworld – though we're not sure you could say the 1979 cruiser has had one 'careful' owner…

• The Slapstick vintage comedy festival in Bristol is to 'celebrate' Donald Trump becoming President by screening Charlie Caplin's 1940 Hitler satire The Great Dictate the day immediately after his inauguration.
• Mrs Brown's Boys creator Brendan O'Carroll has donated more than 2,700 Christmas dinners to Saint Vincent De Paul – the same poverty charity that helped his family out when he was a child, The news cones the day after we reported that his co-star Rory Cowan donated £10,000 to a domestic abuse charity.
• Louis C.K.  has just bought a $2.45 million, two-bedroom home in New York's West Village.
• Policeman turned comedian Alfie Moore has become 'Elfie' Moore for a new Christmas campaign for Humberside Police, offering seasonal tips. 'Stay off the helium' doesn't appear to be one of them:

Tweets of the week
I found the face of Jesus in my cornflakes this morning. How pissed was he last night?

— Boothby Graffoe (@boobygraffoe) December 21, 2016
"If you like pina coladas and getting caught in the rain, you might also like the Black & Decker Workmate and turtlenecks." #AmazonLogic

— Oonagh (@Okeating) December 17, 2016
Just a reminder that if you want to make sure your Christmas greetings arrive on time, the last day for emails is December 25th.

— David Schneider (@davidschneider) December 23, 2016
Published: 23 Dec 2016
What do you think?