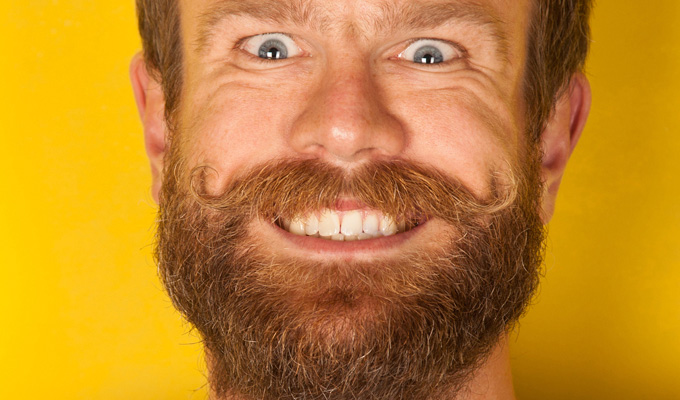 Comic lands a book deal - after asking for one on Twitter
Comedian Olaf Falafel has signed a three-book deal – less than 48 hours after pleading for a publisher on Twitter.
The comic posted a tweet on Wednesday last week, secured an agent the following day and signed the deal on the Friday.
His first book, aimed at the pre-school market, is entitled Old MacDonald Heard A Parp, and is a new take on the classic nursery rhyme. The book will include a 'how-to guide for recreating the animal parp sounds' and be published in April.
The comic, a former art director, will also illustrate the books.
Alice Blacker, a publishing director at HarperCollins Children's Books, said: 'Olaf is a huge talent – and to find that talent on Twitter and acquire so swiftly is beyond thrilling
'His experience as a children's comic and art director means he has a unique approach to the joy of words and pictures. Old MacDonald is wildly funny and has huge child appeal. We can't wait to get it into the hands of our pre-school readers.'
Agent Jo Unwin added: 'I saw a tweet from Olaf on Wednesday, he was my client on Thursday, did a three book deal by Friday. We chilled on Sunday.'
Falafel, who bills himself as Sweden's eighth funniest comedian, performed his first solo show, Olaf Falafel and The Cheese of Truth, at this year's Edinburgh Fringe.
And in 2015 he won the Comedy Poster Award after drawing a series of 21 posters for his two-hadner Michael Stranney.
Of his new book deal, he said: 'I'm really excited – this is the kind of book that a six year old Olaf would have loved. The fact that I also love it now shows you how much I've grown up.'
He also makes absurdist online videos, which have featured croissant-coiffured talking Donald Trump puppet, slices of truth-telling cheese being thrown onto newspapers and the Bee Gees hiding in his beard.
Published: 1 Dec 2016
Recent News
What do you think?