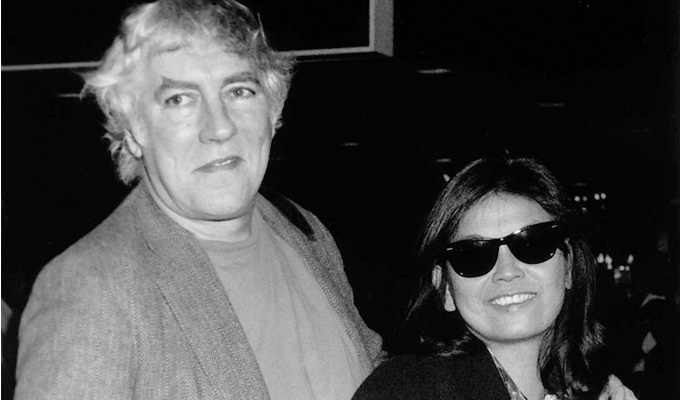 Peter Cook's widow Lin dies at 71
Peter Cook's widow Lin has died at the age of 71.
The news was announced by Victor Lewis -Smith, who posted on Twitter: 'Deeply sad to announce that my dear friend Lin Cook, Peter's widow, has died.'
Lewis -Smith recently collaborated with Lin on the BBC Four documentary The Undiscovered Peter Cook, which aired two weeks ago.
For the film, she gave unprecedented access to the comedian's private recordings, diaries, letters and photographs and revealed on camera the private side of a man better known for his acerbic public persona. 
Lin had a turbulent relationship with Cook, who would fly into rages at the slightest thing. 
'He could be very aggressive,' she said in a 1992 interview with the Daily Telegraph. 'He would tell me to eff off or mind my own business. It hurt at the time, but he was sorry afterwards…. He was just impossible.'
Born Lin Chong in Malaysia in January 1945, she met her husband at  the Hertfordshire home of Playboy boss Victor Lownes in 1982. She was playing backgammon and a 'very drunk' Cook peered over her shoulder, asked: 'Who's winning?' and  moved the pieces on the board. 'He  made himself a bit of a nuisance,' Lin would later say.
It turned out that they were neighbours in Hampstead, North London, and one day they met in the street and Cook  invited her back to his shambling home, and they became friends. Cook made various clumsy, drunken attempts to seduce her, but she always knocked him back.
But they eventually became lovers – after Cook demonstrated a rare vulnerability when he let it be known he had missed her when she went on a ten-day holiday.
In 1989, Cook divorced his second wife Judy, marrying Lin Chong later that year. The comedian died in January 1995, aged 57, having suffered a gastrointestinal haemorrhage. Afterwards, Lin attracted criticism for not inviting Wendy to his funeral.
She became portrayed as a Yoko Ono type figure and was accused, wrongly she said, of trying to sell her 40 per cent stake in Private Eye magazine, which Cook had founded, to one of its enemies, Mohammed Al Fayed.
Following Cook's death, Lin suffered from severe bouts of depression as she struggled with her grief and the difficulty of bringing up her mentally handicapped daughter, Cook's stepdaughter, Nina.
Lin was director of Peter Cook (Productions) Ltd and in 2003 she compiled a book about his life, Something Like Fire: Peter Cook Remembered, which is available here.
Deeply sad to announce that my dear friend Lin Cook, Peter's widow, has died.

— Victor Lewis-Smith (@TVOFFAL) 30 November 2016
Following Lewis Smith breaking the news, Radio Times columnist Eddie Mair tweeted: 'Very sorry to hear that. Your documentary was brilliant and her presence was the heart and soul of it.'
Here is Lin talking about Peter and his drinking in a 1998 Heroes of Comedy documentary:
The Undiscovered Peter Cook is still available to view on iPlayer here
Published: 30 Nov 2016