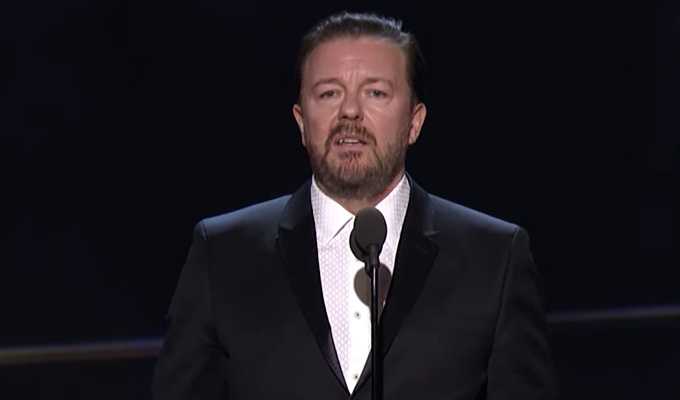 'Drunk' Ricky Gervais collects Bafta award
Ricky Gervais feigned being drunk as he picked up a Bafta award in Los Angeles this weekend.
The Office creator was given the Charlie Chaplin Britannia Award for Excellence in Comedy at a star-studded bash in Beverly Hills.
He joked: 'I've been to a lot of awards ceremonies here. Someone always gets up and says "I haven't prepared a speech. I didn't think I'd win." Well I knew I'd won and I didn't prepare a speech. It shows you the contempt I have for this award and this town in general.
And he added: 'What I'm taking from this is you, and everyone in show business, is saying to me that I'm better than Charlie Chaplin. I humbly accept this award.'
Before confessing he was drunk, Gervais went on to thank his long-term partner Jane Fallon, but the added: 'She has not really contributed to my career. This is all me. In fact thinking about it she has done fuck all. She is around now of course because there is free champagne. She has really fallen on her feet. So i just wanted to mention her.'
Here is some of his speech:
The LA branch of Bafta also honoured Samuel L. Jackson, Felicity Jones, Jodie Foster, Ewan McGregor and Ang Lee at the ceremony.
Previous winners of the Charlie Chaplin Britannia Award for Excellence have included Amy Schumer, Ben Stiller and Julia Louis-Dreyfus.
Sacha Baron Cohen raked the audience when he won the same award in 2013, with a pratfall that sent an woman in a wheelchair flying off the stage:
Published: 31 Oct 2016
What do you think?