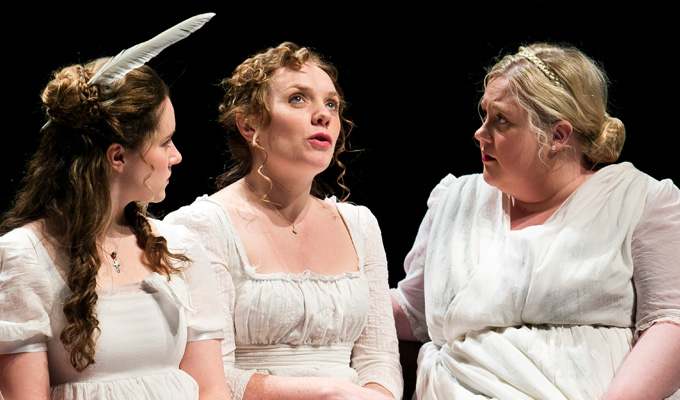 The thinking woman's sitcom
The comedy week ahead...
Sunday October 30
TV: Kevin Bishop plays the Ukip figurehead as an ale-quaffing Little Englander now at a loose end after taking a back seat in politics in the one-off mockumentary Nigel Farage Gets His Life Back. BBC Two, 10pm.

Monday October 31
LIVE IN YORK: If you're bovvered, Catherine Tate kicks off her first ever tour of her comedy characters at York's Barbican Centre - the first in a string of dates stretching through to December. Here is the full schedule.
LIVE IN LONDON: The series of lastminute.com gigs to celebrate the best of the Edinburgh Comedy Award of recent years continues at the Lyric Theatre Shaftesbury Avenue. Tonight's line-up includes comedy couple John Robins and Sara Pascoe, along with this year's best newcomer Scott Gibson, surreal Tony Law and fast-paced character duo  Max and Ivan.
Tuesday November 1
LIVE IN LONDON: To celebrate Childline's 30th birthday, Leicester Square Theatre  is hosting this appealing benefit with Al Murray, Joe Wilkinson, Lee Nelson, Aisling Bea, Jarlath Regan and hosts The Horne Section.
TV: The West Indian family sitcom  All About The McKenzies, based on a successful YouTube series, kicks off a series of pilots from black and minority ethnic talent to be screened on ITV2 this week under the Fresh banner. 8.30pm. The rest are Dropperz, a mockumentary about a struggling grime group  to air at 8.30pm tomorrow; I'm Sorry, I Didn't Know - a panel show themed around black history - on Thursday at 8.30pm; and  What's The Facts,a mockumentary, in which comic Jason Lewis 'proves' every person/mineral/animal has linked by six step at 7.30pm on Friday.
Thursday November 3
RADIO: The Fair Intellectual Club, the new sitcom written by Lucy Porter and based on her 2014 Edinburgh Fringe play, launches on Radio 4. It revolves around a genuine secret society set in pre-enlightenment Edinburgh for the scholarly improvement of young ladies. In the opening episode Isaac Newton (Gavin Mitchell) is in town and he's struggling with a new theory to explain why things keep falling on his head, so pays a visit to the titular group. Radio 4, 6.30pm
LIVE IN LONDON: It should be a good night at the  Funny Side of Tower Bridge, held in the Dickens Inn in Tower Bridge. The circuit's best-kept secret, Carey Marx, shares a bill with erudite Andrew Watts, vaudevillian Otiz Cannelloni and unimpressed  millennial Sarah Callaghan.
LIVE IN HULL: The Hull Comedy Festival kicks off today, lasting 17 days but stretched a bit thin. Tonight, for example, has just one pub gig featuring Jack Evans, Edy Hurst, Amy Gledhill and Lois Mills. Future highlights include Gary Delaney on the 13th and Seann Walsh and an Adam Hess/Rhys James double bill, both on the 18th. Website.
Friday November 4
LIVE IN DUBLIN: David O'Doherty - whose talents only seem to grow over time - performs his latest show Big Time, mixing whimsy, big issues and personal analysis at Vicar Street tonight and tomorrow.
Published: 30 Oct 2016
What do you think?