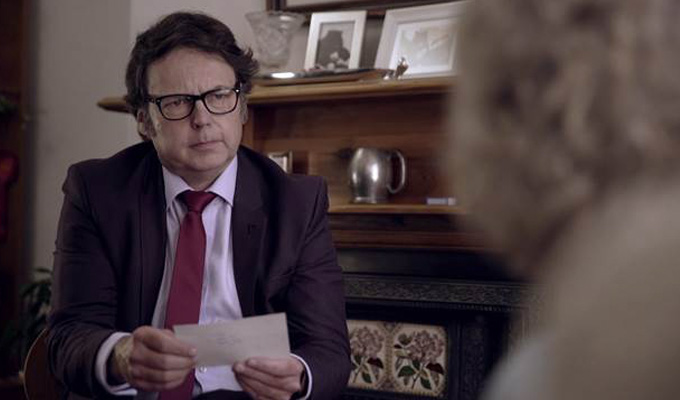 BBC spoofs Making A Murderer
Rich Fulcher is to star in a murder case spoof for BBC Three, Chortle can reveal.
Co-starring Nick Mohammed and Lolly Adefope, Sexy Murder pastiches the trend for true crime documentaries that have challenged convictions, such as Making A Murderer, Serial and The Jinx.
Mighty Boosh star Fulcher plays 'Televisionary' and 'Truth Crusader' Christoph Spinelli who's come to the UK to do for British crime what he's done for America: speculate to the point of insanity and make a story out of absolutely nothing.
In search of a miscarriage of justice to defend, Spinelli's documentary investigates the mysterious disappearance of Polly Worcester and her possible attacker, Tom Jessop. Unfortunately for Tom, Spinelli is the last person you'd want on your side.
Extras's Shaun Williamson co-stars in the series with fellow former EastEnders actor Maggie O'Neill. Stand-up Phil Wang, character comic Daniel Barker, Marcia Warren, James Gordon and Ewan Bailey also appear.
Fulcher said: 'This show is so sexy that I want to have sex with it.'
Six five-minute episodes have been directed by Céin McGillicuddy, who co-wrote it with Andy Kinnear, and produced by Bertie Peek for production company Roughcut.
McGillicuddy and Peek previously worked with Fulcher on BBC Three's police procedural spoof Top Coppers, which starred John Kearns and Steen Raskopoulos.
Executive producer Ash Atalla said: 'It's brilliant and silly and is a way of comedically reflecting the shows everyone is talking about.
And he said his company was 'embracing fast turnaround short-form projects' such as this, to go along its business producing sitcom such as Cuckoo and People Just Do Nothing.
The series, which was shot in June, follows the BBC's own real-life crime investigative documentary Conviction: Murder At The Station, which aired on BBC Two last month.
Sexy Murder – commissioned by Damian Kavanagh, controller of BBC Three and Alex Moody, commissioning editor of BBC Comedy – will be available on BBC Three and the channel's YouTube page from Monday.
- by Jay Richardson
Published: 26 Oct 2016
What do you think?