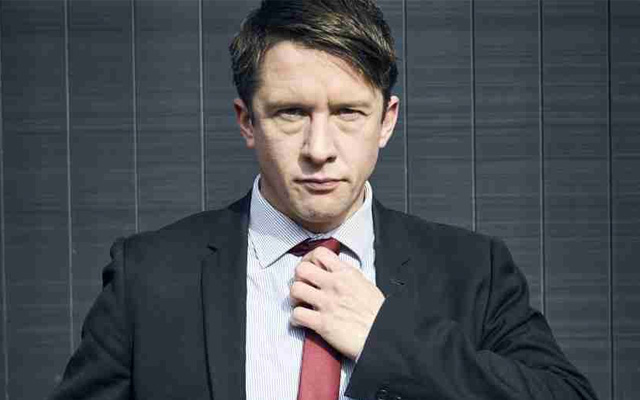 'Taking offence at jokes is stupid'
Taking offence at jokes displays a 'self-imposed stupidity', comedians claimed yesterday.
They argued that the boundaries imposed by political correctness narrowed audiences' thinking and led them to lazy, knee-jerk reactions.
Most outspoken at the Battle Of Ideas festival were American satirist Will Franken – who has long taken arms against liberal censoriousness – and Tom Walker, who performs in character as angry political reporter Jonathan Pie, pictured.
Walker told an audience at London's Barbican Centre that he was the target of outrage after his alter-ego made a misogynist joke on an online video. He said he was astounded 'at the lack of trust' in the piece as fiction, and added: 'I'm not being misogynist, the character is being misogynist. Have the intelligence to appreciate writing.'
Franken said 'political correctness causes stupidity' because it restricted the range of ideas deemed permissible, and said it had led to a death of the satirical tradition that drew him to the UK in the first place, saying the scene was now dominated by whimsy and almost nothing else.
In the audience at London's Barbican Centre, comedian Simon Evans said the comedy circuit was 'ridiculously self-policing' which led to a narrow political outlook. Franken agreed, saying Stewart Lee had become the 'landed gentry' of the scene.
Walker said comedy seem to attract more criticism for breaching boundaries than other art forms. 'It doesn't happen with theatre or opera,' he said. 'Stand-up is seen as a lower art and can be censored more easily.'
Adding that 'it's fashionable to be censorious', he argued that free speech should be paramount. 'If you are a racist you should be able to say racist things,' he said – a position which he argued was different from endorsing racism.
Fellow comedian Timandra Harkness flipped the usual line, arguing in favour of 'the right to be offended, to have my lazy thinking shaken up'.
Walker agreed, saying: 'And why is being offended a bad thing? Who gives a shit.'
Jodie Ginsberg, chief executive ofIndex On Censorship, said freedom of speech 'has to apply in both directions' - whether 'punching up or punching down'.
And on the Charlie Hebdo incident, she said: 'Men with guns don't need protection from cartoonists.'
Ginsberg also said that the Communications Act, which has been used to prosecute people for making bad-taste jokes online is flawed, because it makes it illegal to send 'offensive' messages – but with no legal definition of the term, 'anyone can decide what is offensive'.
Chortle editor Steve Bennett argued that sometimes those protesting about political correctness killing comedy might just be on the 'wrong side of history', and said comedians should expect protest if they peddle attitudes in their set that might legitimise hatred.
'When alternative comedy came along, old-school comics moaned about "political correctness gone mad" when it just meant their sexist, racist and lazy jokes had fallen out of fashion,' he said. 'No one should aim to be the sort of stand-up left complaining that they can't say "darkie" in their act anymore.'
• Timandra Harkness on comedy and censorship
Published: 24 Oct 2016
What do you think?