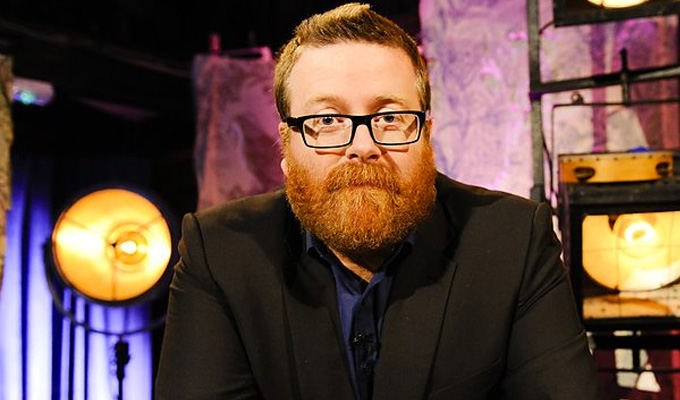 Frankie Boyle's Autopsy moves to BBC Two
Frankie Boyle's American Autopsy is to be screened on BBC Two.
His previous takes on the Scottish Referendum and General Election had been restricted to the iPlayer.
But the move to terrestrial broadcast indicates that the comedian is being entrusted back on to mainstream TV after a series of high-profile controversies.
Boyle's look at the toxic American election campaign – first revealed by Chortle back in June – will premiere on iPlayer at 9pm on Monday November 14, almost a week after the result is known. It will then screen on BBC Two later in the week.
Katherine Ryan and Sara Pascoe will join him on he show which will be recorded in front of a live studio audience in the Asylum Chapel in Peckham, London.
Boyle said: 'So great to be able to get the band back together with the brilliant Sara Pascoe and Katherine Ryan, we look forward to broadcasting what may, depending on the result, be one of the final comedy shows before a full scale nuclear war.'
Victoria Jaye, head of TV content for BBC iPlayer said: 'As a leading satirist of our time, who better than Frankie to unpack the outcome of the US Presidential Election and the extraordinary events leading up to the most important person on the planet being voted into office? 
'Frankie has proved a huge hit with iPlayer viewers with his previous iPlayer original titles, attracting over two million requests. This latest Autopsy cannot come soon enough.'
Earlier this year, Boyle slated Donald Trump when he appeaed on Radio 4's News Quiz, saying: 'He's normalised a kind of madness. So he starts his rallies with instructions on what to do when a riot breaks out. That's not normal.'
Boyle hosting of Have I Got News For You in May for the first time, eight years after he last appeared as a panellist. Programme-makers Hat Trick admitted that his booking was 'controversial'.
Frankie Boyle's American Autopsy will be produced by Adam Copeland and directed by Barbara Wiltshere for Zeppotron.
Published: 20 Oct 2016
What do you think?