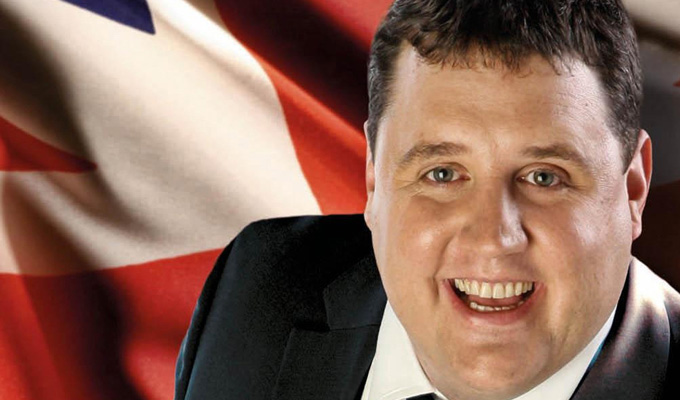 TV pays tribute to Peter Kay... yet again
Peter Kay is to be the subject of yet another TV tribute.
This time it's Channel 5 that is telling his story, with a one-off programme to air later this month.
Earlier this year, BBC One ran a six-part series about his career called Peter Kay's Comedy Shuffle.
That followed a Christmas special about the comedian, which was subtitled 20 Years of Funny.
His career has also previously been examined on TV with an 'in conversation' with Danny Baker for Channel 4 in 2012 and a two-part special about his Comic Relief Songs, Raider Of The Pop Charts, as well as a documentary about his early years that has aired on Paramount/Comedy Central.
Any Kay himself has told his story in two volumes of bestselling memoirs.
Now Channel 5 promises to chart Kay's 'unique journey from humble beginnings to superstardom' with interviews with his friends, colleagues and fans.
The broadcaster said: 'We look at his formative years growing up in Bolton, playing the Cowardly Lion in a school production of The Wizard of Oz (and bringing the house down when he cocked his leg against a tree) and . how the young Peter went from job to job, picking up comedy gold along the way – from the local cinema, bingo halls, a toilet roll factory and a motorway service station.'
Kay then took to the comedy circuit, winning North West Comedian of the Year – beating Johnny Vegas – and landing his own series on Channel 4, That Peter Kay Thing, which spawned Phoenix Nights.
Channel 5 said: 'We see how quickly he became the king of stand-up comedy, selling out massive venues as fast as One Direction or Adele and appealing as effortlessly to teenagers as he does to great grandmothers with his highly crafted observational routines.
'Along the way he has become the perfect chat show guest (having started out as Michael Parkinson's warm-up man) and a multi-million selling pop star on behalf of Comic Relief and as a fictional transgender X-Factor style singer called Geraldine.'
Kay made a return to TV last year, with Cradle To Grave – based on Danny Baker's memoirs – and Car Share.
The Story of Peter Kay will air on Channel 5 on October 30, followed by another airing of his early performance Live At The Comedy Store.
Published: 19 Oct 2016
What do you think?