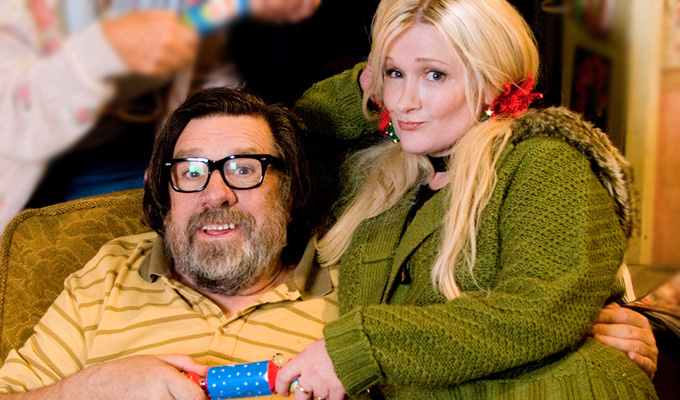 I'm so glad I didn't know about Caroline Aherne's cancer
Royle Family star Ricky Tomlinson said he was glad he didn't know about Caroline Aherne's cancer, as it would have been 'too painful' to work with her.
The actor, whose father also died of the disease, added: 'She was wonderful and brave and no one knew; she never told anyone. She never complained and she was fabulous.'
He was speaking on ITV's Good Morning Britain today, when Caroline's brother Patrick also spoke about the pain of losing his sister.
Patrick said: 'There are many memories of myself and my sister being brought up, but it was always affected by one really bad thing, which was cancer, that's part of our history and part of our memory
'We often had rows and things like that together as brothers and sisters do, but from when we were kids right through to the very end, we had a very special bond. You can't put words on it.
'It seems so unfair that somebody can get cancer three times. At first I thought she was going to get through with it all and she was going to be be OK. I will never forget… when she told me she had three months to 12 months – it was just a horrible, horrible day in my life.'
The Mrs Merton and Royle Family star died from lung cancer on July 2; having previously been striken by bladder cancer and a rare cancer of the retina.
Patrick added: 'You've got to really understand what an impressive person she was to deal with things like this. She had so many problems in her life. She made me laugh purely by being herself. She was such a funny person, such a clever person.
'It gave me great fun and great laughter, and I think it did to other people as well.'
Tomlinson appeared on the show from his home in Liverpool, where he told presenters Piers Morgan and Susanna Reid: 'It was absolutely awful. I'm so glad I didn't know she had it. I never knew until the morning she died and I got a phone call off a newspaper reporter
'I'm so glad I didn't know as it would have been painful to work with her and to see her. I watched my own father die with cancer, 40 odd maybe 50 years ago and then there was no support like Caroline had with Macmillan nurses and stuff like that and that was bad enough.'
His comments come ahead of MacMilllan Cancer Support's annual World's Biggest Coffee Morning fundraiser, which takes place this Friday.
Tomlinson also paid tribute to her co-star's comedy talents, saying: 'Her skills of watching people and making a joke out of it was unbelievable.
'But there was nothing sacred, there was no sort of boundaries that she wouldn't have a go at.
'Every now and again I do little speeches and little talks and I tell some stories about Caroline which I couldn't repeat on your programme this morning because they're very rude, but they're very funny.
'She was a wonderful person and very generous. I got all the big lines, I got all the big laughs, Her and Craig Cash were just in the background yet they were the creators. I will love her forever.'
And he said: 'Why didn't we have a state funeral for her? Everybody loved her. We had a state funeral for Margaret Thatcher and everybody hated her.'
Here he tells of the first time he met Caroline:
Published: 28 Sep 2016
What do you think?