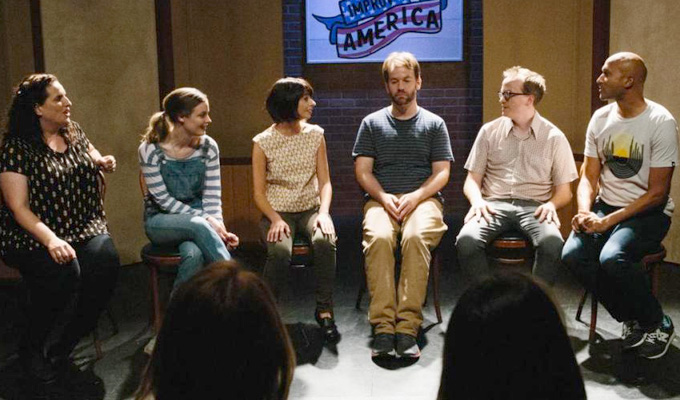 The dark side of improv
Comedian Mike Birbiglia has made a movie about the dark side of improv troupes.
Don't Think Twice revolves around the resentment that divides a New York comedy group called The Commune when two of their members are chosen to audition for a Saturday Night Live-style TV show.
It also examines the lives of those in the troupe, from the day jobs they have, to the optimism of youth, to the realisation that often youthful dreams will remain just that.
The movie's stars include Key & Peele's Keegan Michael-Key; Kate Miccici from Garfunkel and Oates; and stand-up and improviser Chris Gethard, who is heading to Edinburgh next month.
Birbiglia also plays another member of the team, its founder who's bitter that he never made it big, as well as directing and co-writing with Ira Glass of NPR's This American Life.
Birbiglia has described the movie is 'essentially The Big Chill set in the world of an improv theatre'.
Pitched as a low-key drama as much as it is a comedy, the low-budget indie film goes on limited release in the States tomorrow, where it has already attracted positive reviews – many drawing attention to the gulf between the positivity on stage and the reality off it. It currently has a 100 per cent positive score on review aggregator website Rotten Tomatoes.
Village Voice called it 'the best, most revealing film about comedy people and one of the best about artistic collaboration'; and the New Yorker called it an 'amiable, lovingly detailed comedy about comedy'
New York magazine said it was 'a bleak ensemble drama that charts the dissolution of a warm improv-comedy ensemble. It's funny and inspiring and harsh and depressing.'
The Onion's AV Club described the film as 'a touching tribute to the form', adding: 'Amidst its hard truths about the odds of real success in a creative field, it's surprisingly effective at communicating a kind of clear-eyed improv idealism'.
Don't Think Twice, which also stars Gillian Jacobs and Tami Sagher, is Birbiglia's second film after his semi-autobiographical debut, Sleepwalk with Me, which was based on his stand-up.
Lena Dunham and Ben Stiller also make cameos as themselves in the new movie.
There is no UK release date for Don't Think Twice, and it has not received a rating from the British Board of Film Classification.
Here is a trailer:
Published: 21 Jul 2016
Recent News
What do you think?