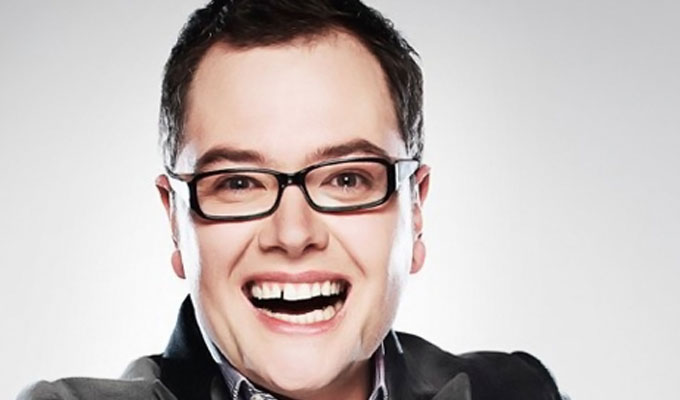 Alan Carr to write another book
Alan Carr is writing a second volume of his autobiography.
Alanatomy: Inside Nature's Giant will be published by Penguin imprint Michael Joseph in October
The book is about the comedian's 'fame years', following on from his 2008 memoir, Look Who It Is!, which focused on his upbringing and early stand-up career. That volume finished with him accepting the job to present The Friday Night Project with Justin Lee Collins in 2005.
'Now he is ready to divulge the next chapter in bursts of hilarious Technicolor,' the publisher says. 'This book will be a guaranteed tickler with a laugh-out-loud gag on every page.'
Although The Chatty Man host says he's reluctant to 'name names' with regard to the celebrities he's interviewed, he told fellow comics Suzi Ruffell and Tom Allen on their Like Minded Friends podcast that it was 'amazing' how 'some people… really vile people become national treasures'.
'You meet people who are so disappointing, but then I was thinking, sometimes being a national treasure, sometimes hiding the real you is just as good enough a skill as performing on stage.
'People who are complete arseholes and yet everyone goes "oh, I love them!" And then you're like "… yeah". Well, you know, I'm not going to spoil it, because if I slag them off, I look the arsehole. I'll just let you get to meet 'em…'
However one section of the book will defend the much-maligned Mariah Carey, as Carr said that instead of her image as a demanding diva, he found that 'she had a really good sense of humour'.
The comedian is also recording a gameshow pilot, Make or Break, for Channel 4 later this month as part of his £5million 'golden handcuffs' deal to keep Chatty Man on air till next year.
But he also said that he 'needed some time off' for 'me time' as he approached 40.
– by Jay Richardson
Published: 10 May 2016
Recent News
What do you think?