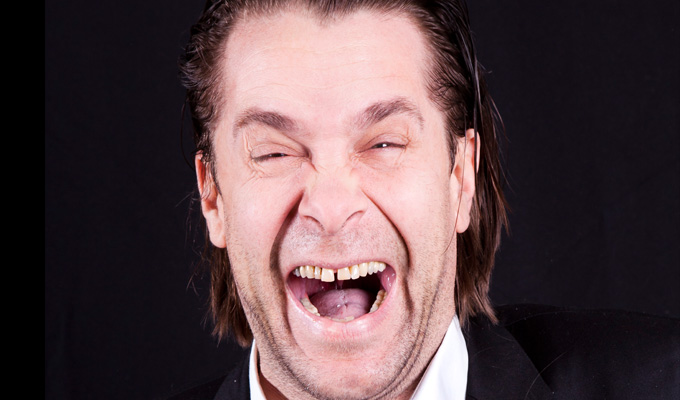 Hans Teeuwen: President Erdogan was a 'boywhore'
Dutch comedian Hans Teeuwen has claimed Turkish president Recep Tayyip Erdogan used to be a 'boywhore' in Istanbul brothel.
He made the outlandish allegation after German Chancellor Angela Merkel gave the go-ahead for a prosecution case to proceed against German comedian Jan Böhmermann for calling Erdogan a 'goat fucker'.
Both Germany and The Netherlands have laws against insulting foreign heads of state – which means Teeuwen could also find himself in legal trouble.
He made his comments when quizzed over the Böhmermann controversy on Dutch TV station RTL, saying: 'I knew Erdogan from the time when he was still a boywhore in an Istanbul brothel.I came there regularly to blow off some homosexual steam. It was also a very good and sanitary brothel.
'I could walk around there in tiny boywhore shorts… ogling around until I went to the rooms in the back with him. Mr Erdogan starts off by getting oral and anal stimulation from me, and by the time I ask for some stimulation, what I paid him for, he is all like, "Oh no, let me put on a little show for you."
'If I need someone to shit on a table while wearing a pig mask, I could've asked my mother for that. She'll do it….
'So Mr Erdogan, before you start interfering with satire in other countries, you should think about your unhappy customers that are still waiting for their blowjob.'
The reporter repeatedly says the claims are satire or a sketch, but Teeuwen, who tours the UK this autumn, insists this is a true story. When challenged that he is 'insulting a befriended head of state,' the comic replies: 'This is a whore customer standing up for his rights.'
His comments come as some Dutch MPs have launched a bid to overturn the law against insulting a head of state.
Joost Taverne from the VVD party says: 'Our freedom of speech must never be called into question by a foreign leader like Erdogan. Humour, satire, mockery and insult are part of our open and free society. It can not be allowed that foreign leaders try to undermine our fundamental rights through the courts.'
However the ruling Labour party say they would 'rather spend time on other issues', it has been reported.
If found guilty in Germany, Böhmermann could be jailed for five years.
Merkel has been accused of kowtowing to the Turks in return for their co-operation in tackling the EU refugee crisis. Meanwhile, Erdogan's regime has clamped down on press freedoms at home, among other reported human rights abuses.
Here's Teeuwen's interview, with English subtitles:
Published: 19 Apr 2016
Recent News
What do you think?