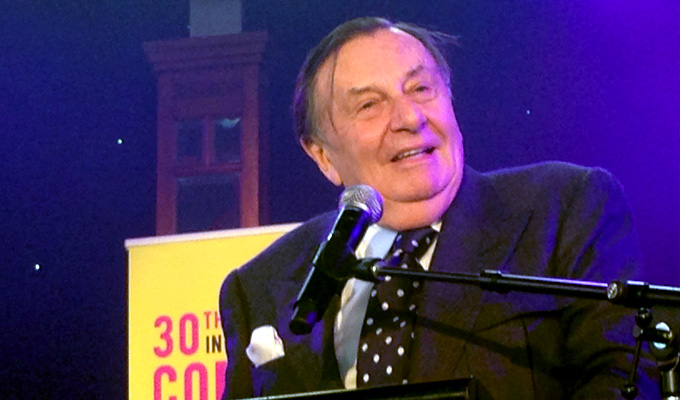 Why Barry Humphries hates the Barry Award
Barry Humphries says he's embarrassed that Australia's most prestigious comedy award is named in his honour – because he hates the sound of his name.
The comic legend today unveiled the nominees for the Melbourne International Comedy Festival's Barry Award for the first time in the event's 30-year history.
However the 82-year-old joked: 'The fact there's an award named after me embarrasses me a bit because I've never liked my name. It's the male equivalent of Shirley. I don't think anybody gets called Barry any more.'
But he conceded of the award: 'We're stuck with it now, and people talk about it rather proudly.'
Humphries added he'd had a few things named after him, including an award he endowed at his old school, Melbourne Grammar, 'for masturbation, or delinquency'.
And in 2007, the city named a laneway Dame Edna Place, in honour of his most famous creation.
'It used to be called Brown Alley,' Humphries said to gales of laughter. 'I asked, "is it an underpass?"
'Even graffiti artists had passed it by. It's a horrible little street. One looked at it with disgust.'
But he conceded that he was actually 'glad' the Melbourne Comedy Festival Award was named after him. 'This is different,' he said. 'Worthy people get it.'
Humphries launched the very first Melbourne comedy festival in 1987 with Peter Cook. He hosted the press event in the guise of Sir Les Patterson, where he dropped his trousers and left an imprint of his penis in a bowl of wet cement.
Speaking today Humphries said: 'I'm reminded that it was I, with Peter Cook, a great comedian and friend of mine, who launched the festival. To me, it seems like it was only yesterday, but it was many, many years ago. I thought it would die out, this festival, but it didn't.'
• 2016 Barry nominees unveiled.
The Barry Award was set up in 1998, but initially called the Stella Award. It was renamed in Humphries' honour in 2000, when it was won The Boosh. The likes of Ross Noble, Daniel Kitson, Nina Conti, Russell Kane and Rich Hall have gone on to win it.
Last week it was revealed that Humphries is to make his Edinburgh International Festival debut next year.
He will be performing an evening of music from the time of the Weimar Republic, before Hitler rose to power in Germany, alongside cabaret star Meow Meow.
Here he is speaking about Barry Humphries' Weimar Cabaret, which will be performed at the Usher Hall on August 8 and 9:
Published: 11 Apr 2016
What do you think?